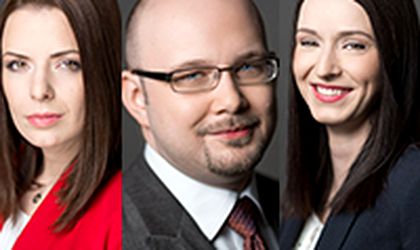 Independent Romanian law firm bpv Grigorescu Stefanica (bpvGS) has announced the promotion of Raluca Marcu and Nicolae Ursu as managing associates and of Iulia Dragomir (Cojocaru) as senior associate.
Raluca Marcu (left) joined bpvGS in 2006 and is currently part of the team coordinating the dispute resolution practice of the firm. She has broad experience in litigation matters, being involved mainly in fiscal and administrative disputes as well as in public procurement case. She also has experience in mergers and acquisitions.
Nicolae Ursu has more than eight years of experience advising regional and multinational companies with regards to complex real estate, energy and infrastructure transactions. He is currently vice-president of the Infrastructure & PPP Committee at AmCham Romania, the business advocacy group.   
Iulia Dragomir (Cojocaru) joined bpvGS in 2010 and has over six years of experience providing legal assistance on fiscal, commercial, public procurement and labour matters. She is also part of the competition team and is co-author of the chapter on Romania published by Competition Law in Central and Eastern Europe.
Ovidiu Posirca