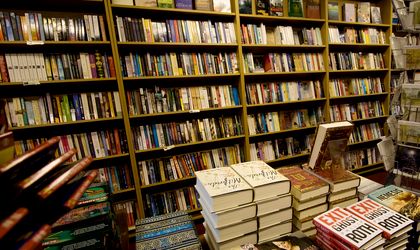 This year's literary extravaganza of Bookfest consists of interactive events, book launches, reading and autograph sessions, meetings with big names from culture, art and politics, concerts, films, theater performances for kids, photography, creative writing and live drawing workshops, plus debates, at Romexpo, between May 28 to June 1.
Here's the schedule of events for Sunday, June 1:
11.00-12.15 CURTEA VECHE PUBLISHING
Readers' theatre workshop for children aged 9-14 years old
(ARENA Scene, PAV. C1)
12.00 EDITURA HUMANITAS
Book launch: Primul Război Mondial. Controverse, paradoxuri, reinterpretări, by Lucian Boia.
Guests: Lucian Boia, Angelo Mitchievici, Gabriel Liiceanu.
(own booth, PAV. C2)
12:00 The French Institute Bucharest
Workshop for teenagers from the Department of Foreign language courses.
(own booth, Pav. C4)
12.00-12.30 DELICATESE FLORESCU
Autograph session with Gheorghe Florescu for the volume Confesiunile unui cafegiu (Ed. Humanitas).
(own booth, Pav. C4)
12.30-13.30 EDITURA ALL
Book launch: Un scriitor, doi scriitori, by Alex. Ștefănescu.
Guests: Alex. Ștefănescu, Mircea Dinescu, Vladimir Găitan.
Moderator: Viorel Zaicu.
(own booth, Pav. C1)
13.00-14.00 EDITURA VREMEA
Book launch: Istorie bucureşteană, by Nicolae Vătămanu.
Guests: acad. Dinu C. Giurescu, prof. dr. Octavian Buda.
Moderator: Silvia Colfescu
(Arena Scene, PAV. C1)
14.30-15.00 EDITURA POLIROM
Book launch: Opere III. Teatru, by Gellu Naum
Guests: Simona Popescu, Vlad Zografi, Ion Cocora.
Moderator: Ana-Maria Tăbârcă.
(own booth, PAV. C2)