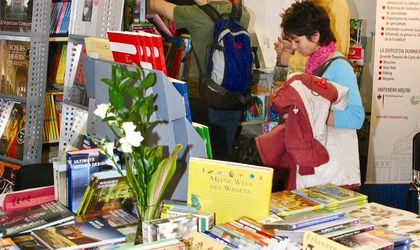 Important personalities of culture and art life, media, politicians, experts will attend the Bookfest 2013 International Book Fair, while Neagu Djuvara, Lucian Boia, Horia Roman Patapievici and Gabriel Liiceanu will each present a new publishing project.
The agenda of this year edition consists of 300 interactive events, book launches, reading and autograph sessions, meetings with culture and art personalities and politicians, concerts, films theater performances for kids, photography, creative writing and live drawing workshops, professional debates.
The Romanian literature will be widely represented by great names like Mircea Cartarescu, Doina Rusti, Radu Aldulescu, Lucian Dan Teodorovici, Ruxandra Cesereanu, Dan C. Mihailescu, Octavian Soviany, Nora Iuga, Gabriela Adamesteanu, Ioana Nicolaie, Alex. Stefanescu, Denisa Comanescu, Ioan Bogdan Lefter, Liviu Antonesei, Bogdan Ghiu, Ioan Es. Pop, Ioana Ieronim, Nicolae Tzone, Lucian Vasilescu, Constantin Abaluta, Radu Voinescu, Marius Chivu, Florin Lazarescu, Simona Popescu, Daniela Zeca Buzura, Florin Iaru, Bedros Horasangian, Ioana Parvulescu, who meet their audience as authors and guests.
Also, actors Radu Beligan, Valentin Uritescu, Horatiu Malaele, Tamara Buciuceanu-Botez will launch books and give autograph sessions, while well-known journalists like Emil Hurezeanu, Luca Niculescu, Alessandra Stoicescu, Mihai Gainusa, Dan Tapalaga, Radu Paraschivescu, Marina Constantinescu, Alice Nastase and Olivia Steer are also expected to be present in the events.
This year, the Guest Country section is represented by Austria, Switzerland and Germany, through the international project Three Countries Same Language developed by Frankfurt Book Fair. Nine German language writers are expected to arrive in Bucharest next week for the festival.
The eighth Bookfest International Book Fair runs between May 29-June 2 at pavilions  C1, C2, C3, C4, C5 of the Romexpo Exhibiting Complex.Visiting hours: Wednesday, May 29, and Thursday, May 30, 10:00 am – 8:00 pm; Friday-Sunday – 10:00 am to 10.00 pm. Admission is free of charge.
Oana Vasiliu