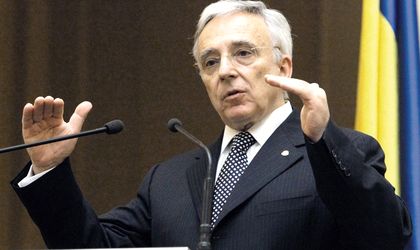 The National Bank of Romania's (BNR) governor Mugur Isarescu stated during a conference that there have never been "greater dangers concerning stability," as quoted by Hotnews. He referenced the "passing to pay" bill, which is currently under debate in the Parliament, which "raises a few problems".
Isarescu stated that, although we have managed to bring our deficit to 1 percent and bring our reserves up even after the IMF funds have been returned, we are in a "crucial moment," in which we should not "take steps back and deviate from the fiscal consolidation process and financial stability".
"BNR supports and will support negotiations between commercial banks and customers that will lead to balanced solutions," Isarescu said at the conference, stating that contracts between banks and clients should be governed by the "consensus principle". Should the situation of one the parts be substantially modified along the way, the two parts should negotiate a balanced solution, the governor went on to say.
"This re-humanization process of negotiation must be based on objective criteria to justify the initiation of the renegotiation process. Completing it must be a redistribution of the burden between banks and customers. Not risk sharing, but the sharing of additional burden, emerged from the crisis," Isarescu explained.
He added that the Prima Casa program should not be included in the law and should continue as is, since the "non-performance rate is virtually zero. The program cannot work on the basis of irrevocable guarantee from the State, which should not and cannot be questioned under any circumstances," the central bank representative underlined.
He explained that the bank's point of view coincides with interventions made from within and outside the country, most voices warning that the bill could endanger the country's economic advances.
The International Monetary Fund (IMF) has recently voiced concern that the current version of the law could "threaten private property rights, undermine investor sentiment, and curtail credit provision to households and businesses". The financial institution showed that the retroactive application of the law may affect government guarantees granted under the Prima Casa mortgage scheme and undermine the country's financial stability.
Natalia Martian