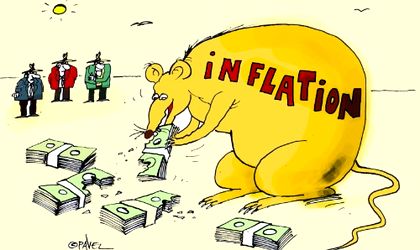 Romania's central bank Tuesday revised slightly down its inflation forecast to 3.3 percent this year from 3.5 percent previously and said inflationary pressures are expected to remain at moderate levels in the next months.
"In the meeting today, the BNR board approved the quarterly report regarding inflation. The document reconfirms the perspectives on placing the medium-term annual inflation rate inside the variation interval of +/- one percentage point associated with the stationary multiannual target of 2.5 percent, starting with the second half of 2014.
Therefore, according to the new projection, the annual rate will be 3.3 percent by the end of the years 2014 and 2015" according to the Central bank's press release.
The annual inflation rate dropped to 1.04 percent in march, from 1.55 percent in December 2013. At the same time, the annual average inflation rate dropped to 2.8 percent in March from 3.2 percent the previous month. Inflation harmonized with prices was 2.3 percent last month, compared to 2.6 percent in February.