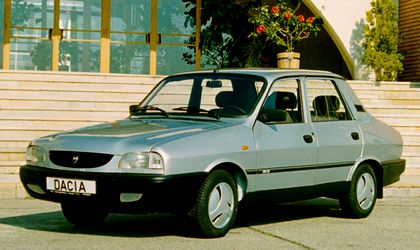 Bloomberg's online edition published a feature looking into the history and importance of Dacia for both Romania and the European auto-industry.
"Renault SA bought Dacia in 1999 and started producing Europe's cheapest cars. The plant runs at 95 percent of capacity, making 343,000 vehicles last year. Before 1989, the factory — set beneath thickly wooded hills along the banks of the Argesel river 130 kilometers (80 miles) northwest of Bucharest — employed twice as many workers to produce fewer than a third as many cars" write the authors in the beginning of the article.
Dacia is compared to other auto-brands that originated in the communist era, such as Trabant, Wartburg and Polonez, which are now gone. Skoda is the exception.
As part of Volkswagen AG, Czech manufacturer Skoda has prospered thanks to USD 3.8 billion in investment. Renault has invested EUR 2.2 billion into Dacia and received EUR 200 million in tax incentives from the Romanian government.
Dacia is by far the fastest-growing major car manufacturer in Europe. Its first-half sales on the continent jumped 35 percent to 195,069 units, according to the European Automobile Manufacturers Association.
Renault's policy has always been to produce ultra-cheap cars at the mioveni factory, initially wanting to sell Dacias under EUR 5,000. That means that it has to look at any way to save money on the manufacturing process.
The average monthly salary at the Mioveni factory — including extras such as shuttle buses, subsidized meals in the company cafeteria and bonuses — is 4,228 Romanian leu ($1,240), or about 950 euros.
While that's about a third of what Renault pays factory hands in France, Dacia's 17,000 workers in Romania are among the country's best paid. The company says wages at Dacia are up 170 percent since 2008, while inflation in Romania has been about 30 percent over the same period.
"What we're trying to do is to maintain the competitiveness of Romania," Nicolas Maure said. "Our relationship with the union remains very contentious."
Maure says Renault might implement greater automation — which means fewer jobs — or shift production to Morocco if he can't keep wages in check.
The state of poor infrastructure is also a concern, the article concludes.