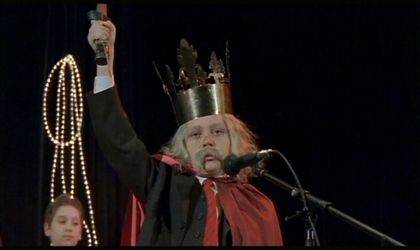 The shortsup that impressed the public at the NexT International Film Festival will be screened at Bistro Chez Elvire, in the garden of the French Institute, offering stories about strength, courage, love and mystery. The event takes place on July 18 from 21.15 and it is free of charge.
The films are The Living Also Cry (Și viii plâng, d. Basil Da Cunha, 2012), Junior (d. Julia Ducournau, 2011), All My Dreams on VHS (d. Timothy X Attack, 2008), Ștefan (d. Stanca Radu, 2007) and Diane Wellington (d. Arnaud Des Pallieres, 2010).
The Living Also Cry – Ze is a dockworker in Lisbon. He watches enviously the ships he will never board. He dreams of leaving his wife and the slum. He has been saving money in secret to travel to Sweden. But one night he gets home to discover that his wife found his savings and spent them on a new washing machine. The shortup won NexT Trophy 2013.
Junior – Justine, nicknamed Junior, age thirteen, spots and a good sense of humor of her own, is a tomboy; slightly misogyne. While we diagnosed her a lightning gastroenteritis, junior's body becomes the theater of a strange metamorphosis. The movie won Cristian Nemescu award for directing NexT 2012.
All My Dreams on VHS – James never misses his dreams – he records them straight to VHS using Dreamspoon wireless technology. But when a work colleague, Erica, stops by one evening, she finds something surprising amongst the titles. A bittersweet comedy. If you hoard your dreams, someone is going to want to watch them.
Ștefan (in picture) – Ștefan is a ten years old boy who has to play the role of Stephan the Great for the school play. The little one gets in the character's shoes so much that the parents and his teachers started to feel proud of his interpretation.
Diane Wellington – Diane Wellington disappeared in South Dakota in 1938 at the age of 15. She has just been found.
Oana Vasiliu