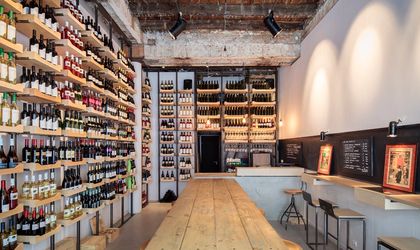 The Beros & van Schaik Wine Traders shop estimates a EUR 130,000 turnover for 2012, one year after it opened in Bucharest's old center area. The wine bar and shop opened in December 2011, with a portfolio of only self-imported wines (specialized in Chilean, Argentinian and Spanish) and Romanian boutique wineries.
The initial investment was of EUR 100,000 and covered renovation, shop concept, staff, delivery system and the initial stock of 11.000 bottles. The first year turnover was the result a concentrated sales effort on three directions – bar/shop, delivery to end consumers and HoReCa. The bar brought in 65 percent of the revenue, with guests showing more and more interest in imports (especially Chile and Spain), boutique Romanian wineries and sparkling wines.
The shop features wines open for free tasting before buying, while the tasting room is exclusively non-smoking and also works as a bar. "We are happy that our concept of wine shop and non-smoking tasting room is appreciated by a regular client base. The possibility of tasting before buying with option to have wine delivered at home has proven successful and next year we plan to take it even one step further with online ordering and a wine club for our loyal clientele," said Jerry van Schaik, one of the investors of Beros & van Schaik Wine Traders.
For 2013 the investors expect turnover to grow by 25 percent, mainly by extending sales to the HoReCa sector, delivery and special events (tastings, fairs etc). On the long term, exports to The Netherlands are a definite direction, first steps have shown growing interest for indigenous grapes like Feteasca Alba, Feteasca Neagra, Crâmpoşie Selecţionată or Novac.