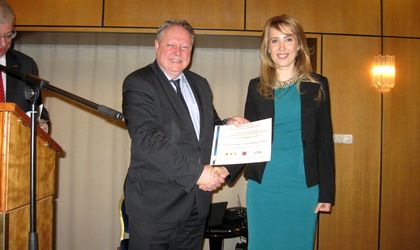 Eco Herbal IS was awarded during the third Belgian Week for the activities undertaken last year in social economy. This is the first time such an award is granted in Romania, in order to support and promote activities related to the fragile groups in a community, as well as non-traditional consumption products, reads a press release.
The third Belgian Week took place over April 20 to April 26 in Bucharest, being organized by the Belgian-Romanian Businesspeople Association (BEROBA), in collaboration with the Embassy of Belgium and The Open Network (TON).
The Belgian-Romanian Businesspeople Association was formally established in January 2013. The main objectives of the association are to create a network of businesspeople between Belgium and Romania by organizing seminars, workshops, meetings and company visits for members, to connect with other business associations, to lobby on the Romanian and Belgian authorities by seeking alliances and to form working groups which to contribute to creating a better business environment.
The Open Network is an organization which, at the moment of its establishment in April 2012, brought together 135 Belgian municipalities and their organizations active in Romania, alongside organizations in Romania working at local level in partnership with Belgian counterparts.
The third edition of the Belgian Week included a seminar on social economy, over which were discussed various aspects related to the issue of providing active support to civil society organizations.
Eco Herbal I.S. SRL is a company active in the social economy area. Its activities are focused on producing and processing medicinal and aromatic plants.
Staff