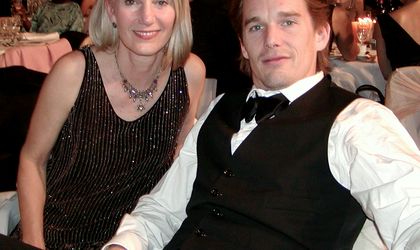 Leslie Hawke, president of Asociatia OvidiuRo, tells Anca Ionita how her Hollywood actor son Ethan's presence in Romania to launch his latest film, Before Midnight, as part of a special event open to the public at large, will help the association's long-term goal to make early education standard public policy in Romania.
By Anca Ionita
Asociatia OvidiuRo is organizing the Romanian premiere of Ethan's  latest film, Before Midnight, in the presence of the actor and the movie's director, to support the association's latest campaign. Can you tell us more about the campaign?
We don't think of it as a campaign, we think of it as our mission, and that is to get every poor child in Romania into quality early education programs so they have a chance of succeeding in school – and life.
One of the reasons that most NGOs don't really make much difference to the quality of life in this country is that they try to do too many things; they have too many short-term campaigns and projects! We are focused on only one thing: early education for poor children. It's not that later education is unimportant, it's that if these disadvantaged kids don't get early educational intervention, most of them are doomed to drop out of school long before they have any marketable skills.
I see Ethan and Rick's participation in this movie premiere as a way to focus attention on the success that OvidiuRo has had in getting severely impoverished children into preschool programs. In the communities where we work, poor kids' attendance in preschool goes from maybe 30 or 40 percent to over 80 percent! That's remarkable, and it's largely because we give the parents an incentive to bring them every day – RON 50 in food coupons per month.
Who is your target?
To change the future of the poorest children for the better, we need everyone to get involved. First and foremost we are trying to get the attention of politicians and policy makers. In order to do that, voters in this country have to care about this issue – and make that known to the politicians and party leaders. So we want regular Romanians to come to the movie premiere, which is why we didn't make the event exclusively for "VIPs". It's not just about fundraising; it's about raising awareness of the importance of early education.
What are the most difficult obstacles OvidiuRo has to surpass in order to achieve its goals?
Our biggest obstacles are: 1. coming up with the money to continue the programs in the current economic environment; 2. the turnover of teachers and the quality of teacher preparation in rural areas.
Our biggest allies are 1. the local authorities who are committed to getting every child in preschool in the 20 communities where we work; 2. the school inspectorates in those 12 counties; 3. the people at the Ministry of Education who support the Fiecare Copil in Gradinita program, especially the minister, Remus Pricopie, along with Liliana Preoteasa and Viorica Preda. I have enormous respect for those people because I believe they really care about this issue and they work very diligently under extremely trying circumstances.
What are OvidiuRo's goals for this year?
We know we have a model that works – and that can "scale up" – but it's very hard to raise funds in the corporate sector now. By the end of 2013, we also want to have two counties using our model on a county-wide basis and to get more citizens actively involved in education reform!
Ethan has made a lot of movies over the years but he's never premiered one in Romania before. Why this one?
The "Before" series of movies is my favorite movie project of Ethan's. I loved Before Sunrise, I loved Before Sunset even more, and I'm pretty sure I'm going to love Before Midnight. (I read the script while they were writing it in Greece last summer, but I haven't seen the film yet.) Ethan and Rick offered to do a benefit for OvidiuRo – either in NYC or in Bucharest and I chose Bucharest.
Why was that?
Building a bigger middle class in Romania is something Romanians must do for the sake of their own children. It's not about "charity"; it's about self-interest and the development of a healthy civil society. I believe that most of the money OvidiuRo raises should be in Romania and from Romanians.
So I wanted to do an event that could involve a lot of younger Romanians. Expensive sit-down dinner "galas" tend to draw the same corporate CEOs and expats, and not actually raise anyone's awareness. Intelligent, sophisticated young people are going to love this movie.
And the education of disadvantaged children, regardless of their ethnicity, is a cause that many of them care about and want to support.
But do you actually receive much support from young professional Romanians?
Support from young businesspeople is definitely on the rise. We are getting more and more people opting to support Fiecare Copil in Gradinita through direct debit, whereby they contribute a certain amount every month through automatic deduction from their bank account.
It's simple to set up, and painless to donate. A lot of young people give RON 50 a month this way, which is the amount we give parents if their children come to preschool every day. We also have some company CEOs who give substantial amounts through direct debit.
Tickets to the VIP reception are EUR 300. That's pretty expensive.
But tickets to the premiere of Before Midnight are RON 150, and that includes the Q&A with Ethan and Rick after the film and an after party on the steps of the Palatul Copiilor.
That's not exactly "cheap" but it's no more than a lot of young professionals spend on an ordinary Saturday night – and this is a one-of-a-kind event.
Before It's Too Late, June 26, Palatul National al Copiilor, 18:30 VIP reception; 20:00 Before Midnight film premiere; 22:00 Q&A with Ethan Hawke and Rick Linklater; 22:30 After Party; individual tickets at www.bilete.ro; sponsorships: simona@ovid.ro
anca.ionita@business-review.ro