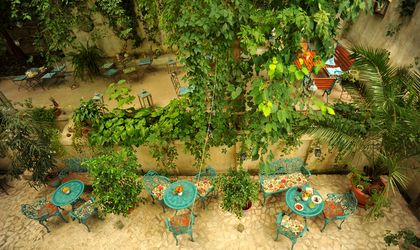 Bucharest cannot bear to be anything but at the forefront of the social scene, which is why the city offers a wealth of summer diversions to those who stay put and embrace the sweltering heat. Business Review trekked across the city to track down the best places to spend your summer days and nights.
By Oana Vasiliu
Old City Center
Eugen Istodor put it well in his trilingual book on Lipscani, when he wrote of the main street of the Old Center: "it looks like a theatre setting, ready for a party which is always postponed: vintage scenery, wedding dresses, easy drugs, easy lovers, cheap and colorful gifts, antiques, crazy bicycles, all sorts of tea, ecological, organic, shawarma/kebab, mussels, narghiles, eccentricities, cool, small talk, euphoria, parties, drunk men, funny, takeaway, pubs or taverns for all pockets, but also an earthquake waiting around the corner, ready to turn everything into dust."
Hidden gardens
Embassy Terrace
The small chain of Embassy bars/restaurants has been a success story, establishing itself as the first choice for social media addicts who check in at the bar. By word of mouth and without advertising, this terrace, in a dingy location, has become a raging success. The furniture is cheap junk, there is shade but no greenery, but people just love it. It positively heaves with beautiful (and I mean beautiful) young things, drinking and rocking (in their seats) through the night. Slow, slow service, so get there early.
Address: 8 Piata Lahovari
Gargantua
This lovely place is eccentrically attractive inside, but in addition it boasts a delightfully leafy 'green' terrace on the fringes of Parcul Icoanei. In fact, the little terrace has better maintained grassy and shrub areas than the park. It is best visited for lunch or dinner, as it is not a place you would chill out at with nothing but a cold beer. So look over the menu and go there to dine, as it is well recommended.
Address: 69 Jean Louis Calderon, Parcul Icoanei
Infinitea (in picture)
For an incursion into Alice in Wonderland territory, you should definitely try this hidden garden situated in the Cotroceni neighborhood. The tea hides incredible aromas beneath unusual names, the summer lemonade tastes delicious and the cookies simply melt in your mouth.
Address: 7 Dr. Grigore Romniceanu
Café Verona/ Verona Garden
Café Verona is the perfect quiet spot in the city center, away from the hustle and bustle of the streets. The terrace is calm and comfortable, the lemonade is great and every day from 12.00 to 16.00 they offer an all-you-can-eat lunch for only RON 26.
Address: 13-15 Pictor Arthur Verona
Lake-view lounges
Bonton Lounge, Salt, Sushi Ko
This place is stunning, but only for its size: it used to be known as Bonton Palace, but now it is transformed into three different terraces. It has a roof terrace and a massive lakeside terrace which can easily accommodate more than 500 seated revelers. It has no need of plants and flowers, as the surrounding shrubbery of the Herastrau Lake gives a shaded green impression. The downside is a permanent floodlit runway in the middle of the terrace, which can be used for fashion shows.
Address: Herastrau Park, 1 Sos. Nordului
Hard Rock Café
The world famous restaurant chain, whose walls are plastered with rock and roll memorabilia, entertains diners with both famous bands and wannabes. Neck a Hurricane – the most famous HRC cocktail, a blend of orange, mango and pineapple juice, infused with Havana Club Anejo Blanco Rum, Captain Morgan Black Rum, Amaretto and Grenadine and garnished with an orange and maraschino cherry – and rock out.
Address: Herastrau Park, 32 Sos.
Kiseleff