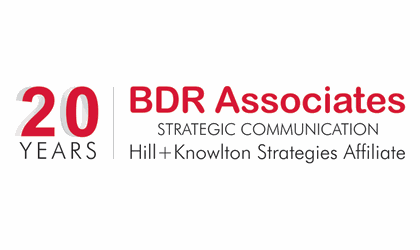 High-quality services and professionalism, a wide portfolio of services and a deep respect for its clients are some of the many ingredients that have made BDR Associates one of the major PR and communication companies in Romania.
BDR Associates has been present on the Romanian market since 1995 and has evolved constantly in its field of activity. Today it has a wide range of communication tools and services that were developed over the years, aligning its capabilities and day-to-day duties to the market trends and demands. It has constantly provided specialized consulting and strategic communication activities, from classic PR tools, and media relations to customized training and public affairs efforts. "2014 and the beginning of 2015 have also brought increased demand for event management, creative development and digital campaigns. Various monitoring and sector analyses are among companies' priorities lately," says Catalina Rousseau, president and CEO at BDR Associates Strategic Communication Romania & Republic of Moldova.
Public affairs are one of the services that BDR has in its portfolio. It is very important for various industries, companies and business associations to be aware of the latest changes proposed by the authorities in legislation, or other initiatives impacting the business environment. Dialogue with the authorities should constantly improve, as the government has to understand the specifics of a business and the needs of the private sector when launching various initiatives, including draft laws. "The business community needs to inform decision makers of the needs it has, in order to operate in a friendly environment, which would mean economic development, new jobs and prosperity in general. It is our duty as PA consultants to propose and facilitate constructive dialogues which can only be beneficial for all parties involved in a common effort to make Romania grow," says Rousseau.
In her opinion, professionalism, dedication, ethics and results are some of the main factors that have led BDR to success as it is always conditioned by the reputation of a company in the market. "We represent a true success story of becoming a market leader, through valuing values. In all these 20 years we have never given up our principles and ethics, irrespective of how difficult times were for our business. The clients have always highly praised our offer," she adds. But flexibility, wide-ranging expertise and a capacity to adjust quickly to the market needs are also very important. "We have expertise in all possible industries and economic sectors, except for the defense industry. We have supported NGOs and international organizations. We have also provided important and valuable work for causes that we felt were close to our hearts," says Rousseau. She adds that customers are always interested in the agency's previous experience in their field, but there is always a beginning in a new domain.
BDR operates on a market marked by fierce competition and so it is important for it to be innovative, take risks, have a highly consistent offer for its clients, look for challenges and be honest. "Our lesson learned: never give up on ethics, principles and consistency, irrespective of how much money you are going to lose, choosing the right way. In our business it is key to maintain the respect of the clients, business partners and competitors," adds Rousseau.
BDR was the first Romanian PR agency invited to the international SABRE Awards competition, traditionally run worldwide by The Holmes Report. In 2005 it won the big award for best campaign in the region, with a project created and implemented for P&G. Other awards or diploma of excellence followed over the years. "Yet, in time, we have put the clients' priorities in first place, so recently we have not participated in such competitions too often, only when a certain award would bring real additional benefits to our client, as part of our communication strategy. Instead I have been a jury member in several reputed international competitions over the last few years, and this is what I like the most as it allows me to feel the pulse of the industry worldwide," concludes the CEO.
Anda Sebesi