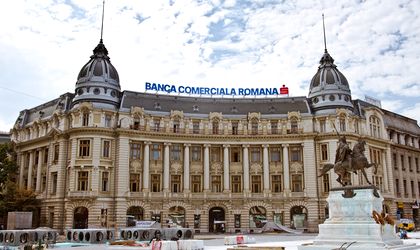 BCR, Romania's biggest lender, registered a loss of EUR 276.9 million last year, on the backdrop of soaring risk costs and ongoing restructuring of the business. Austrian Erste Group, which own BCR, said the negative result was due to an adverse economic environment.
Erste Group, which registered a net profit of EUR 483.5 million profit, expects its Romanian subsidiary to return in the green this year.
Tomas Spurny, BCR CEO, said: "We are looking forward to changing our bank and future. The process has started in 2012 and shall continue throughout 2013. Our objectives are clear, first and foremost we aim to gradually improve asset quality and overall risk management framework. In parallel, we are seeking to improve the quality of our business model through reorganization of business units, branch network and overall simplification of the operating model."
BCR's operating result fell by 3.3 percent year-on-year to EUR 529 million, due to a lower net interest income, as the decrease in costs and the increase in net fee income and the trading result proved insufficient to offset the loss.
The weak consumer credit demand and a growing level of non-performing loans (NPLs) lead to a 2.2 percent reduction of the operating income to EUR 906 million.
The lender said the net interest income fell by 7.6 percent to EUR 649 million, while the net fee income added 9.4 percent to EUR 142 million. Meanwhile, the net fee income rose by 9.4 percent to EUR 142 million, driven by higher transaction volumes. Te net trading result soared by 21.8 percent to EUR 21 million.
BCR's tight cost management lowered the operating expenses by 0.8 percent, although the cost to income ratio rose by 0.6 percentage points to 41.6 percent. The restructuring costs run a cost of EUR 24.1 million. The bank has axed 956 jobs last year, ending up with 8,289 employees by December.
"The in-depth restructuring of our operations targets above all improvement of client experience and overall adjustment of our franchise to the new reality of banking market in Romania. I have no doubt whatsoever that the BCR team shall succeed in this challenge", added Spurny.
The loan book lost 0.2 percent to EUR 11.9 billion due to weak demand. Deposits, which are BCR's main funding source, have also reduced by 4.5 percent to EUR 8.5 billion.
The lender is the formation of non-performing loans (NPLs) that reached 26.7 percent by December, has significantly reduced. Its NPL coverage rose by 8 percentage points to 58.6 percent.
With both the retail and corporate sectors suffering from a weak economic recovery, the net charge of risk provisions for loans and advances soared by 68 percent to EUR 813 million.
The solvency ratio stood at 12.4 percent, above the minimum regulatory requirements of 10 percent, while the Tier 1 + 2 capital ratio reached 18.6 percent.
BCR remained the leading lender is Romania with a 19.3 percent market share in assets, in spite of a 4.5 percent fall in total assets to EUR 16.4 billion.
Ovidiu Posirca