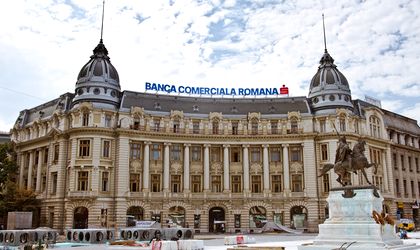 The Romanian lender BCR, controlled by Austrian Erste Bank, registered a loss of RON 762 million (EUR 172 million) in the first three quarters of the year from a profit of RON 67.6 million (EUR 16 million) in the same period of last year, as it increased provisioning in response to the weak domestic economy.
The operating income of BCR decreased by 4.5 percent year-on-year to RON 4 billion (EUR 679 million) in Q3, as the consumer credit demand remained weak. The lender said the ongoing formation of non-performing loans (NPLs), which represents 25.8 percent of the total loan book, has reduced in Q3 for the large corporate and real estate segments.
BCR's net fee income rose by 7.1 percent y/y to RON 476.4 (EUR 107 million) in Q3. The lender added 21.6 percent in the net trading result to RON 393 million (EUR 89), due to gains in foreign exchange trading. The fee and commission income remained flat at RON 674.2 million (EUR 152 million)
The lender has reduced the operating expenses by 6.1 percent to RON 1.1 billion (EUR 267.4 million) by September, and aims to return to profit in the next years. It lowered the cost/income ratio to 39.4 percent in September, which is a 0.6 decrease from last year. The return on equity (ROE) has fallen sharply from 1.3 percent to a negative 14.1 percent.
"Aside from improving our cost base, BCR Group shall focus on systematic pursuit of improvements concerning commercial capabilities, operational excellence and asset quality. These focused measures shall deliver sustainable results," said Tomas Spurny, CEO of BCR in a company statement.
BCR reduced the operating expenses by 2.8 percent quarter-on-quarter in Q3 to RON 377.5 million (EUR 85 million), the lowest level in five years. In the same time, it cut the loss by 11 percent q/q to RON 214 million (EUR 48 million).
The loan portfolio increased by 3.1 percent on nine-months to RON 55 billion (EUR 12.1 billion), before provisioning.  BCR holds a leading market share of 21 percent in overall lending and 19.2 percent in deposits.
BCR lost 1.4 percent in deposits to RON 39 billion (EUR 8.6 billion) by September. This remained the main funding source of BCR, along with support from parent bank Erste.
Higher provisioning on sluggish economy
BCR increased the risk provisions for loans and advances by 39 percent to RON 2.6 billion (EUR 595 million), in response to a continuing weak performance of the Romanian economy on corporate and real estate business. The NPL coverage ratio, including collateral, reached 109.9 percent by September.
Analysts at BCR forecasts the Romanian economy is set to grow by 0.7 percent of GDP this year.
BCR's solvency remains above the required levels, with Tier 1+2 capital ratios at 13.2 percent, and the solvency ratio at 17.6 percent. It remains the leading bank in Romania after assets, which fell by 0.5 percent to RON 76 billion (EUR 16.8 billion) at end-September.
BCR slashed 708 jobs by September, reaching 8,537 employees.
Ovidiu Posirca