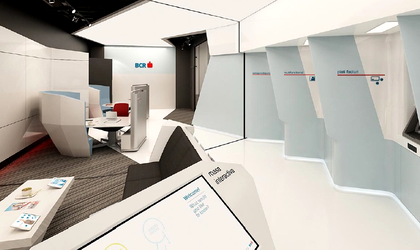 BCR, part of the Erste Group, has launched a new concept banking unit, "eXperience BCR", boasting the latest technologies, such as live video counselling, touch-screen desks and 24 hours "complete banking services," according to a company press release.
"The 'Video Counsellor' from the 'eXperience BCR' unit is available to customers after closing time, through live video sessions which enable the interactive transfer of information and simulated calculations directly on the screen facing the customer. The interactive touch-screen desk involves a technology having three purposes: pre-counselling, offering information, and educating customers," BCR informs.
And while parents can use the interactive desk as a method of discovering the services that better suit their needs, children can also use it for play.
"We want to open around 10 agencies each year, in places where people are demanding these services, not all will be digital, but they will be based on the new concept," said Dana Demetrian, BCR vice-president for retail and private banking, explaining that even agencies that will not be digital are in a process of updating, "they look very different from what they did 20 years ago."
The bank expects a rise in digital transactions of up to 30 percent, accoring to Mediafax, both for new and for existing clients.
BCR will open another 10 eXperience units, though not all of them during this year.
According to representatives of the bank, the online banking market is on a positive trend in recent years without an aggressive growth, oscillating between an advance of one digit and double digits.
For the current year, Demetrian estimates a double-digit market growth in online banking.
"Last year BCR had the highest increases in the digital area, in terms of number of active customers and transactions, the latter advancing by 30 percent," said Marian Ignat, director of digital channels BCR.
Nationally, one in two people use the Internet. Of these, 70 percent work with a bank, and 10 percent use Internet banking services, according to a study cited by Ignat.
Banca Comerciala Romana (BCR) is a financial group in Romania providing universal banking operations (retail, corporate & investment banking, treasury and capital markets), and covering specialty companies working on the leasing market, private pensions and housing banks. BCR uses a network of 21 corporate business centres and 23 mobile offices devoted to corporate clients, and 509 retails units located in most communities inhabited by at least 10,000 citizens.
Erste Group, a financial services supplier in Eastern European Union, counts about 46,500 bank officers working in 2,800 branches in seven countries (Austria, the Czech Republic, Croatia, Hungary, Romania, Serbia and Slovakia). Erste Group reported a total asset pool worth EUR 202.6 billion and a 56.1 percent cost-to-income ratio at the end of Q1 of 2015. First-ranking common equity index (Basel 3 implemented partially) has improved to 10.2 percent.
Natalia Martian