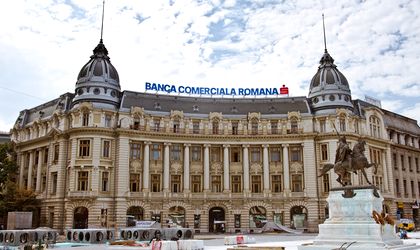 BCR, the lender controlled by Austria's Erste Bank, saw its profits rise to EUR 126.9 million in the first nine months of 2013, from a loss of EUR 172.1 million in the same period of last year, citing lower costs and provisioning for bad loans.
The profits included a positive one-off effect of EUR 127.7 million worth of deferred tax liabilities in the second quarter.
Tomas Spurny, CEO of BCR, said the lender's turnaround efforts have become visible after completing the restructuring of the large scale business and the first reduction of the stock of non-performing loans (NPLs).
"Under the conditions of a stable and predictable environment, we will increasingly be able to focus on healthy growth, searching for symmetry of risk and return. With RON 9 billion (EUR 2 billion) of capital, we find ourselves in solid position to grow and provide sustainable support to the economy," said Spurny.
The operating income lost 0.5 percent to EUR 679.1 million due to shrinking net trading result. The lender cut 5.2 percent in operational expenses to EUR 254.9 million, sending the cost to income ratio to 37.5 percent. Its headcount fell by 14.5 percent to little over 7,000 employees by September.
BCR's loan book before provisioning fell by 8.2 percent to EUR 10.9 billion from the end of 2012, due to weak demand. The bank said it would continue to focus on RON lending on the medium and long term, in a move designed to fully use its strong self-funding capacity in the domestic currency. Meanwhile, deposits lost 1.6 percent to EUR 8.3 billion against the end of 2012.
BCR said customers deposits remain its main funding source, in the same time benefiting from parent support. The lender has also closed agreements with international financial institutions to diversify its funding sources.
The net charge for risk provisions for loans and advances lost 37.9 percent to EUR 371 million, due to lower NLP inflows. NPL ratio slightly rose to 29.6 percent because of the contraction of the loan book. NPL stock shrank because of lower NPL formation, efficient recovery and sell-offs in line with its strategy.
The lender is the largest in Romania by assets, despite a 7 percent decline in total assets to EUR 15.2 billion versus the end of 2012. Its solvency ratio stood at 13.4 percent, above the minimum requirement of 10 percent. The Tier 1+2 capital ratio stood at 21.6 percent, as of June 2013.
Erste Group posted profits of EUR 430 million on the first nine months of 2013, versus a profit of EUR 597.3 million in the same period of last year, which had been driven by one-off effects.
Ovidiu Posirca