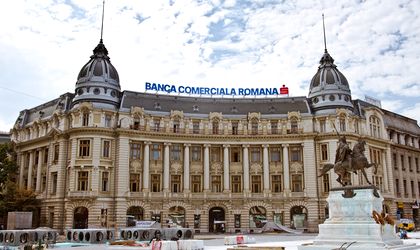 Romania's Banca Comerciala Romana (BCR), the biggest lender by assets controlled by Austria's Erste Bank, said on Friday its net profit reached EUR 133.8 million in 2013, against a loss of EUR 276.9 million in the previous year, on the back of lower risks and a one-off gain.
The lender has benefited from a one-off release of deferred tax liabilities worth EUR 127.7 million in the second quarter of 2013.
BCR saw its operating income slightly fall 1.2 percent to EUR 902.9 million, while operating expenses lost 10.9 percent to EUR 339.5 million due to optimization measures and strict cost management. Te cost-to-income ratio fell to 37.6 percent.
The subdued credit demand sent the net interest income down 3 percent to EUR 634.3 million, while the net fee income gained 17.7 percent to EUR 169.1 million. The net trading result, meanwhile, fell 14.6 percent to EUR 99.4 million.
"We achieved a challenging job in 2013 returning to breakeven after one-off items and, most importantly, dealing with bold decisions, regarding costs, organization and strategy, aimed at consolidating the fundamentals of BCR as the leading bank in Romania. Our main priority in 2014 is healthy business growth, with a special focus on becoming more efficient and customer-centered, by means of better business processes," said Tomas Spurny, CEO of BCR.
"We continue to face significant challenges ahead of us, not least resolving the NPL stock amidst promising economic growth delaying to translate yet into more solid loan demand," added Spurny.
The volume of aggregate loans to customers lost 12.2 percent to EUR 10.4 billion, due to weak demand. Deposits, meanwhile, lost 1 percent to EUR 8.5 billion
BCR said its net charge of risks provisions for loans decreased by 41.2 percent to EUR 482.6 million due to lower inflows of non-performing loans (NPL). The NPL ratio remained flat at 29.2 percent.
The lender's solvency ratio stood at 14.7 percent at end-2013, above the minimum threshold of 10 percent. Its assets fell by 8.9 percent to EUR 14.9 billion.
Ovidiu Posirca