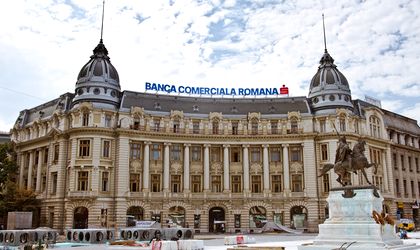 The loss registered by BCR, controlled by Austria's Erste Group, was pinned down to EUR 2.8 million in the first quarter of the year from over EUR 70 million in the same period of last year, due to an ongoing turnaround program that aims to return the lender in the green.
BCR's operating result lost 2.4 percent to EUR 135.7 million in Q1, because of a lower income that was partially offset by expenditure cuts.
The weak credit consumer demand has sent the operating income down 5 percent to EUR 222.9 million. This has also impacted the net interest income that lost 3.7 percent to EUR 164.7 million. The net fee income was down 8.2 percent to EUR 32.6 million and the net trading result decreased by 8.5 percent to EUR 25.6 million.
The lender was able to cut operating expenses by 8.6 percent to EUR 87.2 million by optimizing operations and taming costs. This effort has lowered the cost to income ratio to 39.1 percent.
Tomas Spurny, CEO of BCR, said: "We are the first bank in the market which started such a far reaching journey of turnaround. Our efforts show encouraging signs that we are on the right track in positioning BCR for future growth"
"Although the economic recovery is still slow, impacting our business, Romania is set to record one of the superior growth rates in the region in 2013. We expect to benefit from that uplift, also considering our very strong capital and funding position."
The net charge of risks and provisions for loans and advances plummeted by 38.3 percent to EUR 131.2 million. BCR is grappling with non-performing loans that further rose to 28.2 percent of the total loan book by March, with the lender stating that NPL formations has "significantly reduced" both in absolute and relative terms. The NPL coverage ratio rose by 4.1 percentage points to 58 percent.
BCR's loan book before provisioning shrank by 2.9 percent to EUR 11.7 billion, due to weaker demand. The bank will keep focus on RON lending, as it aims make the RON dominant in the loan book in the medium and long term. This move should also help BCR's self-funding process.
Deposits, which remained BCR's main funding source, fell slightly by 1.2 percent to EUR 8.4 billion. The lenders has diversified its financing sources and benefits from parent support.
Spurny said that infrastructure development, EU funds absorption and agriculture improvement are the main areas that BCR will seek to finance.
BCR remains the largest bank in Romania, although its assets lost 3.7 percent to EUR 19.9 billion.
Its solvency ratio stands at 13 percent and the Tier 1+2 capital ratio amounts to 18.6 percent. BCR says it enjoys one of the strongest capital and funding positions in the market.
Ovidiu Posirca