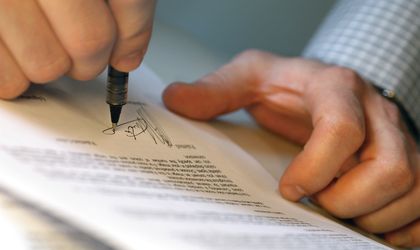 The Romanian Commercial Bank (BCR), BRD-Groupe SocieteGenerale, Raiffeisen Bank and Unicredit Tiriac Bank have announced they formed the first employers' association in the Romanian banking sector. The new entity has been named "The Council of Employers in the Romanian Banking Sector" (CPBR) and is currently awaiting registration, while its members represent approximately 45 percent of the Romanian banking industry.
The executive directors of the four banks have already submitted the necessary paperwork for registration at the Bucharest Court. The process of making the CPBR an official institution may be concluded at the end of the month of June, the founders estimate.
"Our initiative is meant to form a professional organisation that can adequately represent the interests of the banking industry at all levels, namely social, institutional and as employers. We invite all banks that are currently running operations in Romania to join our initiative", says Steven van Groningen, president of Raiffeisen Bank and appointed leader of the CPBR council.
The council also includes Razvan Radu (Unicredit Tiriac Bank), Philippe Lhotte (BRD) and Tomas Spurny (BCR).
The founding members underlined that CPBR is not an alternative to the Romanian Banks Associaton (ARB), but rather a complementary entity to the older banking organisation.
"CPBR and ARB will colaborate and offer mutual support. We, as founding members, believe that establishing an employers association became a necessity", according to the press release.
The founding members also specify that Romania was one of the few European countries that lacked an entity that would act as an employers' association in the banking sector.