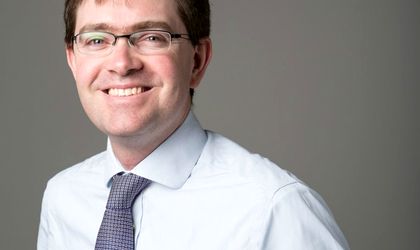 Why the switch from BBC Knowledge to BBC Earth? "Competition doesn't stand still," told BR Nick Percy, director of Business Development & Digital, Global Markets with BBC Worldwide. He described the new product recently launched on the local market as a tighter, very high quality factual offer. "BBC Earth is a much more focused, extremely high quality offering," explained Percy.
By Andreea Marinas
What percentage of the programs broadcasted by BBC Knowledge can be watched on BBC Earth as of April 14? What kind of new productions is BBC Earth going to put on air for the Romanian audience?

I don't have an exact percentage. Clearly, BBC Knowledge was a broad factual channel covering quite a broad suite of topics. BBC Earth we think is a much more focused offering, an extremely high quality offering showing the most amazing sides, some of the most amazing characters and telling some of the most amazing stories to be found in the universe. And when I say the universe, it's about the universe as the earth, but also about the universe broadly. So we think we are bringing some brilliant programs to the Romanian audience.
From a natural history perspective, the BBC is the world's natural history producer. We have a track record spanning 60 years, we have been bringing new camera techniques, we have been bringing new story telling techniques. And for BBC Earth we are really increasing the investment levels over anything we've done previously. And so, there will be shows like life stories. It's a real landmark natural history showing effectively the struggle of life from first steps through growing up, through finding a home, through finding a mate, parenting and trying to protect your offspring and your legacy.
Now we've got the life of sharks coming up, which we think will be definitive natural history about sharks, showing the huge diversity within the species and also showing the adaptations that they've made with highlights including the very first time a hunt by a great white is being tracked from every angle – from below the water, from above the water, from the air. So that's going to be a really special series.
From a sides' perspective, the big landmarks – human universe -, the BBC is showing now, they ask the big questions: how did the universe come about? Where are we within the universe? How did the universe create us? So there are really big questions presented in quite an accessible way. That's quite brilliant for audiences around the world. And on top of that, BBC Earth is bringing some new programs, some of which will be commissioned specifically for the channel, focusing on bold pioneering and stories with a real sense of adventure.
There is a series right now showing four households living in the far Northern Alaska, preparing for the winter, making sure they've got some fish and food and so on and that everything is fixed and ready to go before the big freeze occurs.
Regarding the BBC Knowledge programs that will be broadcasted by BBC Earth, I can't give you a specific percentage. There is clearly some crossover between the two brands because BBC Knowledge was a broad factual offer. BBC Earth I think is a tighter, very high quality factual offer.
How do you think will the BBC Knowledge close up affect the ratings of BBC Earth? In your opinion, will the number of viewers go up or down?
Absolutely we think BBC Earth is a brilliant product, so we think the number of viewers will go up.
With BBC Earth the target audience is aspirational families and specifically dads within those families. And we think we are bringing some extra programming and a broad package to them.
As an example, on Sunday afternoons we have something we called "Unmissable Sundays". That's where the really big landmarks were premiered and we think that's excellent family viewing and that it's perfect for a Sunday afternoon.
We are proud of what BBC Knowledge achieved, but I think that you can't stand still. I think that audiences and the operators are more focused on really high-quality channels and that's absolutely what we've got with BBC Earth.
We've used a few different sources or tools to create what is BBC Earth. In Romania, we've got the experience of BBC Knowledge and we also have a program called "Science and business" and together those have shown us some really strong demand from audiences and from our customers for our factual programming.
We think that BBC Earth will be even better than BBC Knowledge. The outlook is: "I'm very proud of the BBC Knowledge product and what it has achieved, but competition doesn't stand still." I think that what the customers want is always evolving and that we have to solve that the best way we can. And we think that BBC Earth absolutely is the highest quality offer that we can give and because of the BBC's very strong natural history and science production capability, expertise over many many years, BBC Earth is a very natural thing for audiences to expect from the BBC. And that's something we love delivering to audiences.
Our experiences on the Romanian market indicated to us quite strong the attraction for our factual content for audiences and customers in Romania. Added to that, the BBC's expertise in natural history, the volume of content that we can bring to them, and the fact that we are increasing the investments in natural history globally and then, finally, we talked to more than 20,000 consumers around the world to come up with this new channel. We are talking about global consistency: some life series such as "Frozen planet" or "The hunt" which are coming up later this year, were produced over 4-5 years with a huge level of investment. So some global consistency, which is what the BBC Earth has for us in different markets, is really important and we're able to do that.
Why the premieres here in Romania?
We are rolling that channel out in a number of different markets and we work market by market according to what we think the demand is from audiences but also from platforms and so BBC Earth rolled out in Poland in February, has now rolled out in the Nordic countries, Romania, Hungary, Turkey. Romania is an important market to us and we've seen the strong demand for our factual programming through BBC Knowledge and through our program "Science and business" and felt like a good market for us to introduce the brand.
People ask about Top Gear on the BBC Knowledge Facebook page. Will it keep on being broadcasted? 
Top Gear won't be shown on BBC Earth. So now it is our priority to find the best possible way to bring Top Gear to the audiences in Romania.
What are BBC's expansion plans in Romania? What is planned for the near future at international level?
In Romania, our strongest focus now is for BBC Earth and from there we do continue to run the two parts of our business in Romania. So we have the channels part of our business and we also have the program and formats' distribution side of our business. And we absolutely operate both in Romania. Our ambition here is to make sure BBC Earth has the greatest possible success. We will look for the best way to bring the other global brands that we have in our portfolio: BBC Brit and BBC First, which is the drama offering launched in Australia back in the summer. We're looking at ways to bringing those to the market, both to the Romanian market and to other markets in Central and Eastern Europe. I would say that those brands are designed as brands that can come alive in a number of different ways so it might be a channel, it might be as a packaging content on a digital platform, it could be branding blocks. So we're looking at this in very different ways.
At global level, we focus on trying to take the BBC brand and the BBC content to a wider audience, growing that brand. Clearly a way of doing that is continuing to invest in the very best content, and so for BBC Earth for example is very important: for the moment we are increasing our investment in natural history content and that enables us to create and bring out best possible programs to all markets, Romania included.
How much was invested in the new content to be broadcasted in premiere on BBC Earth?
The amount we're investing compared to our previous activities is quite substantially increased. At global level, BBCW invests in programming about 200 million pounds (EUR 277.6 million) each year. That number is increasing.