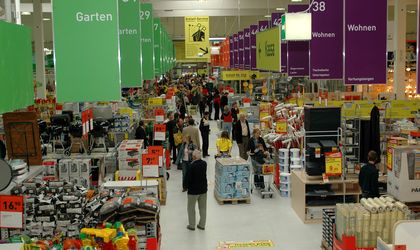 Austrian DIY retailer bauMax has sold its 15 stores in Romania to French group Adeo, the company announced today. The 15 stores will be acquired through a share swap between the two companies. The transaction's value has not been made public and is now pending regulatory approval from the Romanian authorities. Adeo owns the Leroy Merlin, KoziKaza, Brico Center, Weldom, Bricoman and Bricomart retail brands and is already present locally with a Leroy Merlin store in Bucharest.
There have been rumors about bauMax wanting to sell its local business since earlier this year due to the reported losses. The retailer has seen sales go down over the past years and has frozen expansion plans on the Romanian market. "We are happy that we have found a very good solution for bauMax Romania which will ensure a positive future for all those involved, especially for the local suppliers who will be able to continue to prove the potential of the Romanian market. bauMax can now successfully continue its restructuring especially in its five main markets," said Michael Hurter, the retailer's GM.
According to the most recent available data, bauMax's losses doubled in 2012, from EUR 47.2 million to EUR 126 million. The loss was generated mainly by its Romanian (EUR 26 million) and Turkish subsidiaries (EUR 14 million). Karheins Essle, the retailer's founder, commented earlier this year in the German press that the company's expansion in Eastern Europe has not been "properly managed". bauMax runs a network of 66 outlets in Austria, 24 in the Czech Republic, 14 in Slovakia, 15 in Hungary, 4 in Slovenia, 7 in Croatia, 15 in Romania, 8 in Bulgaria and 7 in Turkey.
It opened its first local store in 2006. After opening four stores in 2010, the retailer added another two units to its network until 2012 when it reached 15 outlets and it stopped expansion.
The Romanian DIY market has undergone major changes over the past year. Kingfisher, the biggest European home improvement retailer, bought last year the 15 local Bricostore stores  from French company Bresson. Also, Search Chemicals, owned by Turkish businessman Omer Susly, took over Praktiker's local store network this year, after the parent-company went insolvent, and OBI too has hinted at plans to sell its local operations.
The leader of the Romanian DIY market has grown to become Dedeman which is owned by Romanian businessmen Dragos and Adrian Paval. Unlike its international competitors, the company has managed to maintain a steady expansion rhythm over the past years, reaching a network of 36 outlets at the end of 2013. Its 2013 turnover was estimated to increase by 8 percent to EUR 540 million.
According to Wall-Street.ro, Leroy Merlin was assisted in the transaction by Popovici Nitu & Asociatii, while bauMax was assisted by Noerr.
Simona Bazavan