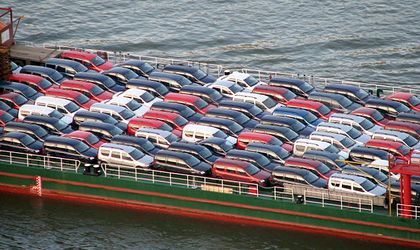 Dacia's plant in Pitesti might lose the assembly line if the Pan-European Corridor IV is not completed, Romanian President Traian Basescu recently warned during a program for Look TV station, writes Mediafax.
Basescu positioned himself as an adversary of the Government, "if they don't connect Romania to Corridor IV" and the Pitesti-Sibiu segment must be made a priority, otherwise Corridor IV is broken.
"It is almost certain that we will lose the assembly line in Pitesti, for the Dacia factories, since there are already utilities ready to take over in Tangier. The second phase of extension already started at the Dacia factory in Morocco. You place your car in the boat, the port is just a few miles away from the factory, not like in Romania, where the Government may think to give priority to Bucuresti-Alexandria instead of Pitesti-Sibiu", the President declared.
Ambassador Philippe Gustin recently declared in an interview for Mediafax that it is important for Romania to develop its infrastructure, in terms of highways and railways, and thus connect to Western Europe, which is very important for Dacia-Renault. A good option, according to Gustin, is a highway to connect Pitesti to Hungary.
"We already have Pitesti-Constanta, since a good deal of cars leave the country through the Constanta Harbor, but we could really use a connection between Pitesti and Hungary in order to connect to the highways in Western Europe, Germany and France. We are exporting more and more in western countries. Results show that Dacia has enjoyed the biggest growth among car brands in France. The auto-industry needs help to become more competitive", Gusting says.
The prime-minister reacted to the president's declaration, classifying them as "a monstrous lack of awareness, complete idiocy".
"I recently met with the president of Renault and he stated very clearly that investments in Romania will continue to develop. Now do you believe the president of Renault or our sinister president?", Ponta asked the press corps.
After being asked how he comments the president's declaration, the French Ambassador said that it's normal for Dacia to expands its business but the Pitesti assembly line is not in competition with the factory in Morocco.
"Dacia is a popular brand at a European level and also on a global level. Given this, we are happy with it and it's standard strategy to create factories near its markets. We have every reason to be proud of Dacia, a business that up until 15 years ago was declared dead. Who would've imagined 15 years ago that Dacia will be sold in a country where the automobile has a cult following – Germany. ", the ambassador explained.
At the same time, the ambassador expressed his conviction that the Bucharest Government can find solutions to respond to Dacia's needs.
"Right now, for a factory like the one in Pitesti, we need a faster connection to Western Europe. Every single day deliveries suffer delays is a great disadvantage to company competitiveness. (…) There are several solutions to this and I am sure that the Romanian Government is very preoccupied and engaged in finding solutions", the ambassador explained, present at the France-South-East-Europe Forum.
Diana Petrescu