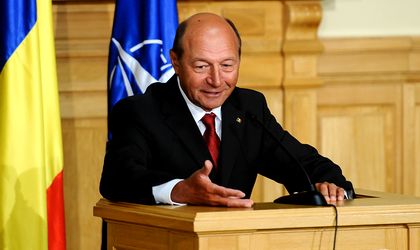 President Traian Basescu said Thursday that Romania does not appreciate that Ukraine has been invaded, arguing that what is currently going on in the Eastern part of the country is: "a significant escalation of the support that the Russian Federation is providing to the separatists".
In a press statement held at Cotroceni Palace, the Romanian chief of state mentioned that he wants to clarify his country's position on the events in eastern Ukraine.
"Firstly, I want to clarify the fact that Romania does not appreciate that an invasion has taken place against Ukraine. Invasion means big units, aviation units, all the weapons categories that invade a territory. So we are not facing an invasion. What is happening in eastern Ukraine is a significant escalation of the support that the Russian Federation is providing separatists", says Basescu.
The president said that "support is manifesting in two ways", one being "infilitrating specialist military personel as command officers" and the other "the increasing transfer of war technology to separatists".
"In the analysis that we made today with the Foreign Ministry, secretaries of state, information services and the Army (…) we notice an unbalance forming of power relations for the separatists, which in our evaluation will lead to stopping the Ukrainian offensive if, in its turn, the Ukrainian state doesn't take extra measures of maintaining a superior battle capacity which so far it shows against the separatists", argued Basescu.
President Barack Obama made a statement Thursday on the situation in Ukraine, saying he spoke with German Chancellor Angela Merkel and that the two agree "Russia is responsible for the violence in eastern Ukraine."
"The new images of Russian forces inside Ukraine make that plain for the world to see," Obama said, quoted by Huffington Post.
Obama said he would meet with Ukrainian President Petro Poroshenko next month at the White House.
Kiev and its Western backers accused Moscow of sending Russian troops and armor to fight alongside rebels in eastern Ukraine, dimming hopes for a diplomatic solution to the crisis and prompting the U.S. and Europe to threaten new sanctions.
Ukrainian President Petro Poroshenko convened an emergency meeting of his security chiefs Thursday and vowed that "Ukraine can defend itself."