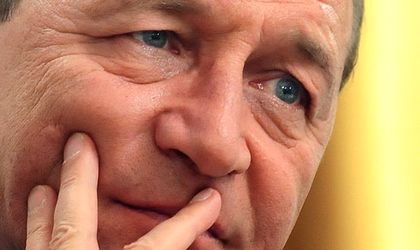 President Traian Basescu issued a warning on Tuesday at an economic Forum that Romania is risking a new economic crisis, in absence of fiscal predictability.
"We've seen this year how a new series of introduced taxes caused a major upset in the business environment. A barrier like this will make investors take a step back and the drop in FDI is a evidence of that,we've noticed a 13.8 percent drop in FDI after the first 7 months. If we ad that the Government, in a bid to stimulate consumption, used 30 percent less money for investments and redirected it towards social welfare we realize that, following this road, Romania is risking a new economic crisis", according to Basescu.
The president argued that it is important in 2015 to send a direct message to investors regarding predictability of the fiscal environment.
"If Romania is one of the countries that practiced quick solutions and they manifested as such (…) that doesn't mean that we don't have issues".
The chief of state believes that Romania is has a "risk zone which is under the state's care".
"We have other risk zones in our economy. Maybe I shouldn't call them risk zones but rather barrieres in the way of job growth and economic recovery", according to Basescu who offered "poor infrastructure" as an example.
Education and Health are two other such barrieres envisioned by the president of Romania. The education system doesn't provide the kind of specialists that the Romanian economy needs and the health of the population is deteriorating.