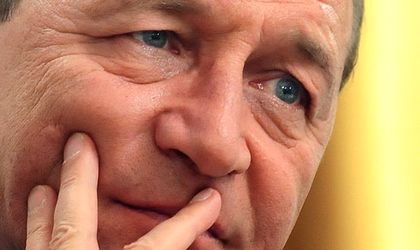 Basescu argued during an event hosted by the Romanian-German Chamber of commerce that he's an avid supporter of the IMF agreement with Romania and that between him and the financial institution there is no argument.
"I didn't mean to imply that there's a dispute between me and IMF. Certainly, I am an avid supporter of continuing our agreement. (…) At the same time, I do not wish to endorse useless taxes for useless expensive in the state budget. I'm very concerned about keeping the deficit small and that is incumbent on the quality of the expenses", the president remarked.
That is why, Basescu argued, he rallied against the tax excise for gasoline suggested by the Government and IMF, since Romania has money for investments from different loans.
Basescu, at IMF meeting: "I will NOT sign for new taxes"
"My public approach has nothing to do with political interests, I am not up for candidacy, but I do not want for us to impose excessive taxing for gasoline. Romania needs conditions that encourage development under normal parameters. I fully support keeping the excise tax for gasoline as it is and I'm not an opponent of liberalizing energy prices", Basescu added.
The president went on to talk about competitiveness and how it's key for the economical progress of Romania.
"Romania needs to take a good look at its economy and see if it sufficiently competitive to enter the Euro-zone. (…) The private sector is competitive. The big issue is the public sector, whether we're talking about state companies or energy distributors", Basescu explained.
Within this context, the key word for the head of state is "restructuring"
"This is where we need to use the word restructuring, enhancing performances in investments for modernization. I am aware of the fact that we can't be fully competitive until the public sector diminishes, via privatizing, whether partial or complete", the President specified.
Diana Petrescu