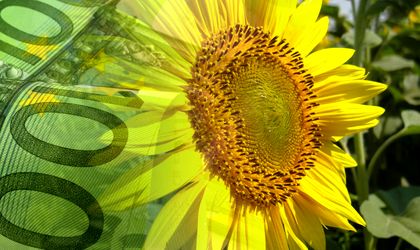 Lenders on the local market have come up with a wide range of financial products and services for agricultural players. But entrepreneurs active in this field still face difficulties in getting money to cultivate their businesses.
By  Anda Sebesi
Many lenders on the Romanian market have shown interest in financing agricultural businesses. Both banks and non-banking financial institutions (IFN) have launched an array of products and services for entrepreneurs who have decided to pitch their flag in this field of activity. BRD-Groupe Societe Generale, BCR, CEC Bank, OTP Bank, Banca Transilvania, Patria Credit and Agricover Credit IFN are among them. But what is the reason behind this strategic movement? All specialists agree that agriculture has a huge development potential, despite being a very sensitive sector to climatic conditions. "Agriculture has a significant weight in our commercial strategy. We intended and have managed to be among the first local banks to offer loans to farmers under the SAPS program in 2013 as well. We know that in agriculture it is vital to have the money exactly when you need it and that's why we meet the needs of our partners from this field by granting them this credit promptly," said Stefano Burani, chief business officer at Intesa Sanpaolo Bank Romania, at the beginning of August.
Under a deal signed earlier this year with the Agency for Payments and Intervention for Agriculture (APIA) and the Guarantee Fund of Rural Credit (FGCR), the bank offers loans to finance working capital to its customers in agriculture, both individuals and companies. This is part of the Scheme of Unique Payment on Surface (SAPS) – the 2013 campaign. The lender's portfolio also includes loans to finance current activities, lending for specific investments and co-financing products for projects developed through the National Program of Rural Development (PNDR). All the products are especially created to meet the identified needs of the lender's customers and benefit from favorable lending conditions, such as extended grace periods or flexible payment schemes that take into account the seasonality of agricultural activities.
Elsewhere on the market, at the end of August OTP Bank Romania launched the AgriBusiness package for customers who collect their subsidies into accounts held with the lender. There are no costs for the administration of any bank accounts opened at the bank, and customers get free access to internet banking and a 50 percent discount on the commission on loan repayments deriving from borrowing to pre-finance the APIA subsidies. "Through its additional advantages, the AgriBusiness package comes as new support for farmers and small agricultural entrepreneurs that receive APIA subsidies. It is a field with a huge potential for development which we actively support and for which we will create permanently helpful products and services for our customers," said Roxana Hidan, manager of the SMEs division at OTP Bank Romania.
Authorities intend to fertilize agriculture
At the beginning of October, Daniel Constantin, the minister of agriculture and rural development, announced that Romanian farmers would get a 50 percent advance on their surface payments (EUR 61/hectare) from mid-October. "About EUR 600 million, which represents the 50 percent advance from the surface payments, will go directly to the farmers in the next two weeks. The rest of the sum, up to EUR 160/hectare, will be paid after December 1 and I hope that we will complete the surface payments by March next year," said Constantin.
He added that this was the first time when APIA was paying an advance for the agro-environment measures of Axis 2. Payments of EUR 275 million have been made so far.
Furthermore, speaking at the Mediafax Talks about Agriculture event in September, Constantin said that the Ministry of Agriculture intended to launch many measures at the beginning of next year through which farmers could get finance to the PNDR program for the 2014-2020 period.
In addition Valeria Tonciu, manager of the FGCR, used the same event to call for a lending fund, adding that farmers' need to protect themselves against the risks arising from natural calamities should be covered too. "We will have to think about a lending fund and measures that have a multiplying effect in addition to guarantee schemes. We must continue the mechanisms to insure against risks from natural causes and meet farmers' needs in the event of natural disasters, because the regulations allow us to do so," said Tonciu.
Last but not least, recently the secretary of state, Achim Irimescu, noted that the new National Program for Rural Development will be simplified and focus on those measures that are extremely important to Romanian agriculture and rural environment. These include investments and the package of measures for young farmers.