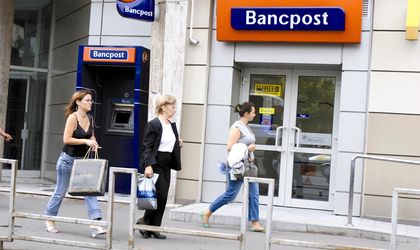 Bancpost reported a net profit of RON 65.8 million (EUR 14.8 million) in the first nine months of 2015, while the pre-provision profit went up 28 percent year on year, company representatives announce.
The bank has been on an ascending trajectory for the first two quarters of 2015, managing to recover the RON 102.7 million of losses at the end of September 2014.
The company's operating expenses dropped 17 percent due to the network optimization, while the cost-to-income ratio decreased by 13 percent to 70 percent after the first nine months of 2015.
According to representatives, the 87 percent loan-to-deposit ratio of the bank allows the company to self-fund its operations.
NPL ratio reached 16,5 percent during the first nine months, while at the end of H1 2015 the ratio reached 16.3 percent.
The bank had a capital adequacy ratio of 18.72 percent in September 2015, announcing that maintaining a comfortable liquidity position remains one of its top priorities.
"The results registered in the first 9 month of 2015 confirm the bank's successful strategy. Bancpost has a solid position in the market, being very liquid and well capitalized. Our main priority is to concentrate on supporting our customers and have an active role in the Romanian economic growth", said George Georgakopoulos, Bancpost CEO.
Bancpost is a bank present for 24 years on the local market, with a network of 150 units, 7 corporate business centers and 5 regional retail centers. The bank manages a portfolio of more than 1 million corporate, retail and institutional clients. Bancpost provides funding to companies both from the bank's own funds and from credit lines made available in partnership with various international financial institutions.
Natalia Martian