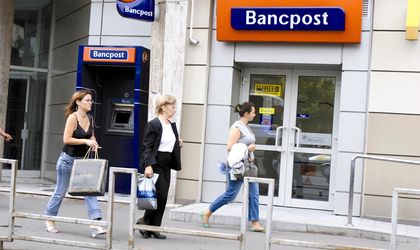 Bancpost reported a net profit of RON 34.6 million in the first half of 2015, and a pre-provision profit up by 37 percent compared to the same period in 2014, a company statement announces.
The non-performing loan (NPL) book continued to improve on the back of the portfolio quality improvement, both in retail and corporate sectors, leading to a lowered NPL ratio to 16.3 percent compared to 21 percent in the same period of 2014.
Operating expenses dropped by 18 percent, due to network optimization, while the cost-to-income ratio decreased by 17 percent to 69 percent. The operating income increased by 1 percent over the first half of 2014.
Loans and deposits remained largely stable in H1 2015 compared to the first semester of 2014, while the loan-to-deposit ratio stands at 87 percent.
"Our transformation plan at Bancpost is yielding results and has restored profitability in H1. We maintained sound capital and liquidity positions. Bancpost is well placed to continue participating as a systemic Bank in the Romanian banking market and support its clients effectively", stated George Georgakopoulos, Bancpost CEO.
Maintaining a comfortable liquidity position and capital adequacy ratio has been and continues to be top of the Bank's management agenda, representatives say.
Bancpost has been present for 24 years on the local market, with a network of 150 units, 7 corporate business centres and 5 regional retail centres. The bank manages a portfolio of more than 1 million corporate, retail and institutional clients. Bancpost provides funding to companies both from the Bank's own funds and from credit lines made available in partnership with various international financial institutions. It has a network of over 553 ATMs, 7,438 POS and 192 APSs. Bancpost is the exclusive partner of American Express for issuing credit cards and accepting them for payment, and is also a representative of VISA and MasterCard.
Natalia Martian