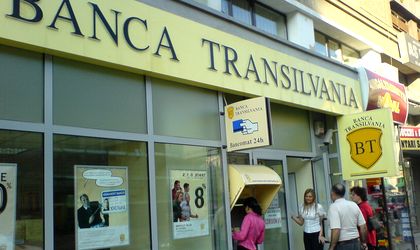 The net profit of Banca Transilvania (BT) added 0.3 percent to RON 180 million (EUR 40 million) in the first half of the year against the same period of last year, as the lender reduced provisioning.
BT's operational income remained flat at RON 733 million (EUR 164 million), while expenses added 4 percent to RON 383 million (EUR 86 million) due to the implementation of a new IT system. The cost to income ratio stood at 52 percent.
Horia Ciorcila, president of BT's administration board, said the first half result was in line with the budget estimate.
"We continued to record a substantial profit, despite a difficult economic environment," said Ciorcila.
The loan book slightly grew to RON 17.7 billion (EUR 3.9 billion), out of which 64 percent were corporate loans, while the rest were granted to retail clients. The rate of non-performing loans stood at 11.94 percent. BT said its loan provisioning fell 27 percent to RON 140 million (EUR 31 million).
Meanwhile, deposits rose by 4 percent to RON 24.1 billion (EUR 5.4 billion), taking the loan to deposit ratio to 77.3 percent.
The lender has a solvency ratio of 11.85 percent. Its assets added 2 percent to 30.1 billion (EUR 6.7 billion).
Shares in BT rose by 3.2 percent to RON 1.28 on Thursday afternoon trading on the Bucharest Stock Exchange.
Ovidiu Posirca