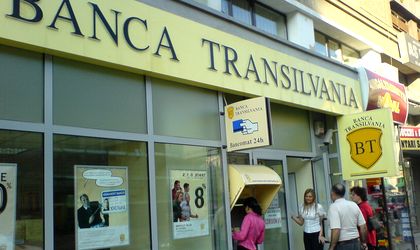 Romania's Banca Transilvania (BT) saw its net profit fall by 9.5 percent in the first nine months of 2013 to RON 240 million (EUR 54.4 million), while the operational income rose to due to a third quarter hike in lending.
Its gross profit, meanwhile, added 4 percent to RON 284.5 million (EUR 64.4 million).
Horia Ciorcila, president of the administration board at BT, says the results confirm the lender's "adequate" business model.
"Our focus will be in the next period to continue lending, financing mainly in RON, and supporting start-ups, SMEs and retail customers," said Ciorcila in a statement.
BT's operating income rose by 3 percent to RON 1.1 billion (EUR 249 million), while expenses added 4 percent to RON 582 million (EUR 132 million).
The loan book added 5 percent to RON 18.4 billion (EUR 4.1 billion), driven by the SME segment. The level of non-performing loans stands at 13.2 percent. The lender increased provisioning by 10 percent to RON 2.3 billion (EUR 521 million).
On deposits, the lender registered a 5 percent hike to RON 24.4 billion (EUR 5.5 billion).
BT's total assets rose by 2 percent to RON 30 billion (EUR 6.8 billion) and its solvency rate stood at 12.4 percent.
BT shares were down 0.49 percent to RON 1.41 by lunch Thursday trading on the Bucharest Stock Exchange.
Ovidiu Posirca