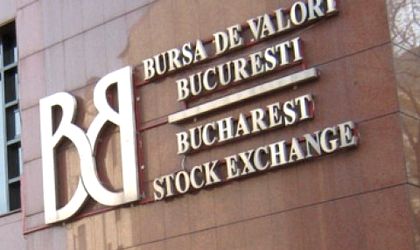 Banca Transilvania, Fondul Proprietatea and Electrica shares were the most traded on the stock exchange, the main segment, between 12-19 February, according to data from the Bucharest Stock Exchange (BVB), as cited by Agerpres.
There were 1,115 transactions with Banca Transilvania shares of over RON 44.9 million, 645 transactions with Electrica shares of over RON 12 million and also 645 transactions with Fondul Proprietatea shares, of around RON 10.2 million.
Romgaz and SIF Transilvania took fourth and fifth place with RON 10.1 million and RON 5.35 million, respectively, says Agerpres.
The main exchange segment has seen 105,597 transactions of over RON 1.01 billion since the beginning of the year, with 85 issuers and 40 intermediaries. As for transactions with bonds, the value was of RON 123.6 million, the average daily value being of RON 3.53 million, and there were 53,107 transactions with certificates of RON 74.1 million.
On the alternative exchange segment, the first 35 sessions saw 7,341 transactions of RON 49.8 million, with 306 issuers and 34 intermediaries.
The most traded for 12-19 February on the alternative exchange market were Deutsche Bank (RON 481,961), Daimler (RON 222,801) and Bayerische Motoren Werke (RON 196,315), according to the BVB data cited by Agerpres.
In total, BVB saw 166,666 transactions of over RON 1.26 billion since the beginning of the year, with the average daily value transacted of around RON 36.2 million.
Andreea Tint