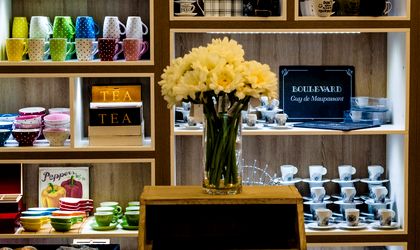 Romanian interior decorations retailer Bam Boo hopes to double its store network to 30 outlets by the end of next year after launching the Bam Boo franchise. The company which owns the Bam Boo brand, Andromede Decor, entered insolvency in January last year and has since closed some 7 stores.
The franchise business will be handled by Philcare Franchise, a company recently set up for this purpose alone, and whose general manager is Belgian Carl Sampers (59), former country manager of SubwayHungary.
"Out of the existing 15 stores we want to outsource some 10 to 12 outlets to franchisees and two or three stores will be kept by the present owner for credibility," said Sampers.
Philcare Franchise has begun negotiations with several potential franchisees from Bucharest, Satu-Mare, Iasi and Craiova, but it is unlikely any new store will be opened this year as the process takes about three months, said Sampers. He added that the company also considers expanding the business outside Romania to neighboring Bulgaria, Serbia, Hungary and Turkey. Overall, 15 Bam Boo franchise stores should be opened next year, hopes the company.
How much does it cost to open a Bam Boo store?
The initial investment for setting up a Bam Boo store amounts to about EUR 65,000 for a 300 sqm rented store. This doesn't include renovation costs or an eventual rent deposit.
The EUR 65,000 includes the franchise tax (EUR 7,500), the furniture (EUR 24,000) and the initial merchandise stock (EUR 30,000). The franchise tax covers the store design, training and assistance for the store opening.
Variable costs include the franchise fee (8 percent), marketing costs (2 percent), the merchandise cost (40 – 45 percent) and its transport (5 percent).
The franchisee can recover the initial EUR 65,000 investment in about two to three years, said Sampers without disclosing the average turnover reported by a Bam Boo store. However, a franchisee can expect an annual profit of between EUR 50,000 – EUR 100,000 depending on the store's surface and the management, according to a ccompany brochure.
Philcare Franchise is looking to expand the network in cities with more than 70,000 inhabitants. The stores should have on average between 250 and 300 sqm and can be located in shopping malls or be street locations.
The existing 15 Bam Boo stores have a combined traffic of 2,500 people each day. The average purchase is between RON 45 and RON 50. Some 75 percent of the products from a Bam Boo store are priced below RON 20.
Simona Bazavan