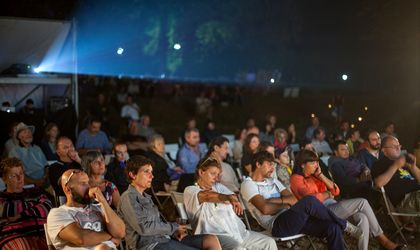 The Divan film and culinary art festival is bringing again the spirit of the Balkans to an old Danube grain-shipping port, with movies, documentaries, debates and workshops: Cetate Harbour. The event will take place between August 21 -30 in two locations, Cetate Harbour and Craiova's main square. During Divan Film Festival, the movies are free of charge, as well as camping in tents in Cetate Harbour.
What's on this year
This year, at Divan Film Festival, three Romanian featured films and five Romanian short-movies will be screened during the festival, celebrating also Postcards with wild flowers / Ilustrate cu flori de camp, directed 40 years ago by the Romanian director Andrei Blaier. The movie illustrated a woman's drama during the dictatorship of Ceausescu.
Aliyah Dada (2015), directed by Oana Giurgiu, presents the story of a non-Jew Romanian who starts a journey to discover the reality behind the Romanian Jews' return to the Holy Land, from the first settlers' adventure, to the hidden horrors of the Second World War in Romania and the communists' secret deals for "trading" the Romanian Jews to Israel, where they became an important group. The film is visually trimmed in the Dada style, as a tribute to the pioneers of this movement, Tristan Tzara and Marcel Janco, Jews of Romanian descent.
The multi-awarded movie Toto and his sister / Toto si surorile lui, directed by Alexander Nanau will also be screened, presents a ten year-old Totonel who lives in the Ferentari ghetto in Bucharest. While his mother is serving a jail sentence for drug dealing, Toto and his older sisters Andreea and Ana share their lives with a host of uncles, neighbors, and drug users. Toto's only escape is a support center where he catches up on his spotty education – and hip-hop dance. His teenage sisters are themselves finding their way in life with varying degrees of success.
The short-movies that will be screened at Divan Film Festival are Lucky (d. Alexandra Botău, 2014), Calea Dunării/ Way of the Danube (d. Sabin Dorohoi, 2014), There's Nothing in this World (d. Andreea Vălean, 2015), 10 hours/10 ore (d. Laura Mușat, 2015), Ela, Panda and Madame (d. Andrei Răutu, 2013).
A culinary cruise
Foodies who have enjoyed the sensorial gastronomic experience at Lacrimi si Sfinti restaurant in Bucharest knew what to expect from the feast prepared for the guests at Divan. From local cheese specialties from the Danubian meadows, local vegetables, Danube fish, pork and veal to fruit pies and plum dumplings, the local flavors were put together by Mircea Dinescu, who managed to recast centuries-old Romanian recipes in a new chapter in the evolution of national gastronomy.
Tatiana Lazar