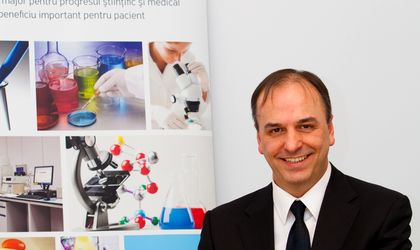 Efthymios (Makis) Papataxiarchis (in picture) is the newly appointed president of the Romanian Association of International Pharmaceuticals Producers (ARPIM), tasked with steering the industry through troubled times marked by late payments and instable taxation. He predicts that pharma producers, who have paid around EUR 1.2 billion under the claw-back tax, will start recovering late payments worth EUR 1.5 billion from April.
By Ovidiu Posirca
How were sales on the pharma market in 2012 and what is the outlook for 2013?
In 2012 the pharma market registered moderate growth in sales and our forecasts for 2013 are for single-digit growth, which allows us to say that Romania is still attractive to manufacturers and the pharmaceuticals industry. We don't expect growth above this forecast, because we are living in times of austerity. We expect pharma spending to follow this trend and be moderate. From December 2011 to November 2012 the pharma market grew by 5 percent to EUR 2.7 billion. It is expected to gain 3 to 5 percent this year.
What is happening with parallel exports?
This is a very important matter. It has to do with European legislation on free trade. It is absolutely acceptable. There are some conditions that we have to meet: the security of supply to Romanian patients for all the medicines they need.
We have to ensure that patients have access to all treatments without shortages at any point. We will collaborate with the authorities in any initiative to ensure that Romanian patients do not suffer because of any trade conditions.
How much has the industry paid for the claw-back tax, which is on its fourth version?
It is true that we live in times of austerity and that we have budget deficits, and we understand that the state is facing problems in appropriately funding the healthcare system and pharmaceutical spending. So we can understand why a claw-back tax has been introduced. When it was introduced, there was an initial statement that it would be temporary. Also, we are happy to pay such a tax because we want to contribute to funding the healthcare system for the good of Romanian patients. The tax should be predictable. Second, it should be sustainable, meaning based on specific figures. It should be fair. We are close to the end of January and still we still don't know the budget for pharmaceutical spending. We are on the fourth version of the claw-back. We pay a claw-back that still includes the profit margins of distributors and pharmacists. We expect to contribute, but a reasonable amount and on an affordable basis. We expect the burden to be less than it was in 2012. We expect a reasonable budget which builds on the previous spending in 2012. Also, we expect all the increase after that to be paid by the industry. I understand that the authorities have to meet with the IMF, EC and World Bank, to conclude their budget.
However, I expect these two conditions – margins of distributors and pharmacists – to be removed and the claw-back to lead to more reasonable sums due than in 2012. In total, the industry has paid a claw-back which from some calculations – because there are no official statements – reaches EUR 1.1 – EUR 1.2 billion which is a considerable amount. The claw-back is based on the fact that the healthcare system is underfinanced.
How do you think we can catch up with the EU average pharma spending, given that the majority of patients are treated in public hospitals? Could the shift towards the private sector help in this respect?
The funding of the system shouldn't be one-dimensional. Is should not be unilateral, only from the state. It should also come from private funds and it is very important for us when we discuss healthcare policy to see what examples are around. If you look at the whole of Europe, the percentage of public funding is decreasing and the percentage of the private sector contribution is increasing. This pattern should also be implemented in Romania.
Would a new healthcare law sustain the development of the private sector?
The healthcare law currently in place, 95/2006, had about 43 evisions/changes up to April 2011. It was said recently that there were more than 1,000 changes in 632 articles. In the past, the idea of changing the healthcare law for a new one was raised. The discussion has now moved on to making improvements to the existing law. I leave it to the policymakers and the politicians to decide what is best for the Romanian system and patients. We are here to give our view on any action that they are going to take; we are able to contribute, not only as trusted partners, but as experts.
What is happening with the delayed payment terms from the National Healthcare Insurance House, CNAS?
You sell something and then you pay an additional tax (claw-back) after some months and you get back the money for what you sold in more than a year. A European directive has been introduced that says that any payment should be made in 60 to 90 days. We expect the EU directive to be implemented; it will be introduced in Romania. We were happy to hear the recent announcement from the authorities, saying they would take note. It's very important for the funding of the system and for the rate of our investments.
We expect to receive payments even later than 300 days, which is a good scenario. In order for this to happen, we must recognize there is a huge amount of late payments, which according to some recent calculations are at the level of RON 6.5 billion (around EUR 1.5 billion), but it's actually more. These cannot be considered arrears, since they are still within the 300-day payment term. But the authorities are on the right path. They have approved this legislation and will implement the European regulation on late payments starting from 16 March. We're supportive of that. It's an industry need and we believe it's a step forward. We expect the situation to improve significantly from March or April.
Is there a timeframe for the approval of new medicines in Romania?
I don't believe that this should exceed the next quarter or the end of June at the latest. Using any methodology, we cannot afford it to be longer. These medicines have a specific patent protection by law for several years. From this patent protection we have already lost five, close to six years. I don't expect any further delay. We should find the appropriate expertise and resources at the level of Ministry of Health to assess the existing files and proceed as soon as possible. I do not believe that it is sustainable or affordable to keep discussing it for longer than a few more months.
ovidiu.posirca @business-review.ro