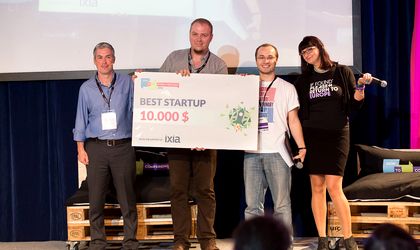 Axosuits, medtech startup that builds advanced exoskeleton suits that help paraplegics walk again, is the winner of How to Web Startup Spotlight, the most important competition and orientation program for CEE startups.
The runner-up of the competition was Avandor, the IXIA Innovation Award went to Project Wipe whereas the Best Pitch award went to Lat.io. The winners have been recently announced on the main stage of How to Web Conference, the most important web and technology event in South Eastern Europe that took place in Bucharest on November 20 and 21.
Organized in parallel with How to Web Conference 2014, Startup Spotlight brought together the best 31 teams building tech products with disruptive potential on a global level from 10 countries in the region. During the program, the teams had the opportunity to meet experienced mentors and professionals, and to talk to representatives from top accelerators and early-stage investment funds from around the world.
The program kicked off with pitches from the startups selected in the competition, after which the jury announced the 8 finalists of Startup Spotlight who would have a chance to win the Best Startup prize. The 8 finalists were:
Marketizator (the 3 in 1 conversion rate optimization platform for ecommerce websites),
ProjectWipe (electronic glasses that help people with visual disabilities in orientation and obstacle avoidance),
Attensee (online eye-tracking insights for website conversion optimization),
Fittter (health and fitness mobile and web app that connects frequent business travelers with handpicked health coaches to provide them the tools to incorporate healthy habits on the road),
Avandor (Open Consumer Data Platform available as SaaS to the entire ecosystem made of sites, advertisers, agencies, ecommerce),
CloudPress (hosted platform for designers to create responsive WordPress sites visually and publish them with one click when they're done),
Axosuits (affordable and easy to use exoskeletons for medical use),
ViewFlux (online collaboration platform for designers which helps them improve their workflow).
All the participants at How to Web Startup Spotlight had the opportunity this year to pitch their products on the main stage at How to Web Conference, in front of the entire audience, and benefitted from 1-on-1 mentoring sessions with some of the highest regarded professionals in the global tech industry.
Bogdan Iordache (Investor 3TS Capital Partners and founder How to Web), Robert Knapp (Founder & CEO Cyberghost), Adrian Gheară (angel investor), Bogdan Ripa (Master Product Owner Adobe Romania), Bogdan Ţenea (IXIA Innovation & Entrepreneurship Appointee), Sitar Teli (Managing Partner Connect Ventures) and Cosmin Ochişor (Business Development Manager hub:raum) were part of the jury which selected the winners of How to Web Startup Spotlight, considering criteria such team fit and experience, market size & trend, market validation & initial traction, customer acquisition cost, scalability and overall feasibility.
The finalists received USD 20.000 cash prizes offered by IXIA Romania, the main partner of How to Web Startup Spotlight. Startup Spotlight will officially end on Saturday, November 22, with a social event where participant startups will have a chance to establish valuable connections with key leaders in the global tech industry.
Startup Spotlight was organized during How to Web Conference 2014, the most important event focusing on innovation, technology and entrepreneurship in South-East Europe, which brought together on November 20 & 21 over 1000 members of the regional tech community and over 70 special guests from 4 continents.