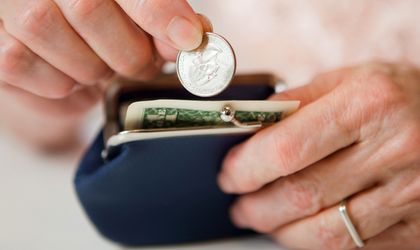 In the first quarter of 2015 the average monthly pension was at RON 890, showing a 5.1 percent rise quarter on quarter, while the average number of pensioners in Romania reached 5.3 million people, decreasing by 14 thousand persons against the previous quarter, according to the latest data by the National Institute for Statistics.
Territorial disparities were rather accentuated, with a gap between the minimum and maximum value of over RON 400 (RON 711 in Giurgiu versus RON 1,121 in Bucharest).
The ratio between the average number of state social insurance pensioners and the one of employees was of 10 to 10 at national level, also varying widely at territorial level, from only 5 employees to 10 pensioners in Bucharest to 18 to 10 in Giurgiu county.
The average state monthly social insurance pension was RON 886, and the ratio between the average pension of state social insurance for old age with full contribution stage (without tax and without health insurance contribution) and the average net earnings was 60.8 percent (down from 62.8 percent in the previous quarter).
Social insurance pensioners represent the majority (99.9 percent) of the total number of pensioners, while state social insurance pensioners represent 88 percent out of the total insurance pensioners.
By categories of pensions, the number of social insurance pensioners was represented mainly (73.5 percent) by old age pensioners. Anticipated and partially anticipated old age categories of pensioners represented 2.1 percent.
In the first quarter of 2015, the total number of beneficiaries of EGO 6/2009, guaranteeing a minimum social pension level reached 558,000 persons, of which:
– 435,300 persons from state social insurance system, representing 9.3 percent out of the total pensioners in this category;
– 122,700 persons from the former system of farmers representing 25.4 percent out of the total pensioners of this category.
The real pension index against the last quarter of the previous year, calculated as the ratio between the nominal pension index and the consumer prices index, stood at 103.8 percent. This was a significant increase compared to the 99.9 value it had in Q4 2014, where it had been stagnating throughout the year.
Natalia Martian
Romania is a land of contrast. Business Review helps you make sense of Romania.
Is there something that puzzles you about our country? You might also be interested in this.