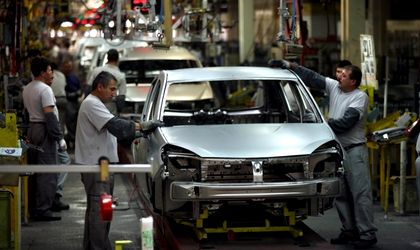 The automobile spare parts sector has registered an increase in activity in 2014, reflected both by the increase in turnover and in the number of employees of the top companies in the field, shows a study by RisCo.ro.
According to the research, the spare parts market has an important contribution in Romania's GDP, number of employees and total export. Most companies active in this field in Romania are greenfield investments of large international manufacturers, and finished products are intended for leading car makers in Europe, but also for internal use by Dacia-Renault and Ford.
Most manufacturers are located in the west and centre of the country, the cost of transport to the car assembly plants is one of the important factors in assessing the operational profitability.
The first place according to turnover is occupied by Autoliv Brasov, a company that in 2013 ranked second in the same top. 2014 brought positive changes in terms of turnover and number of employees, but not in terms of profitability. The Swedish manufacturer's sales rose to RON 2.4 billion in 2014 compared to RON 2.1 billion the previous year, while increasing the number of employees by more than 1,500, to 6,993 people. In contrast, its net profit decreased to RON 52.1 million compared to 66.4 million in 2013.
Occupants of places 2 and 3 of this top, Continental Automotive Systems from Sibiu and Continental Automotive in Timisoara, are part of Germany's Continental Group.
Continental Automotive Systems Sibiu increased the number of employees from 2,369 to 2,896, which had a positive effect on both turnover and net profitability. The company's turnover increased by RON 157.2 million year on year, reaching RON 2.3 billion in 2014, while the net profit worth (RON 47.8 million) increased by RON 64 million lei, against the loss of RON 16.1 million registered in 2013.
Continental Automotive Timisoara occupied the third place in the rankings in 2014. The turnover (RON 2.04 billion), increased by RON 382.2 million against 2013. Also, Continental Automotive managed to reduce its losses, shrinking them down from RON 58.02 million in 2013 to RON 41.8 million in 2014. The number of employees (4,489) increased by 401 persons.
Next in the rankings is Takata from Arad. Year 2014 brought positive changes in the Romanian branch of the Japanese automotive safety systems (seat belts, airbags, etc.). With a total of 4,103 employees, with 321 more people as compared to 2013, the company's net profit increased from RON 67.7 million to RON 97.7 million. It posted a turnover of RON 1.9 billion in 2014, up by RON 294.9 million year on year.
The next two companies belong to the British Delphi group.
Diesel Systems in Iasi climbed one position compared to 2013 and reached number five. Although the number of employees decreased from 1,914 in 2013 to 1,778 in 2014, turnover and net profit of the company registered positive changes. The turnover was RON 1.5 billion, RON 13.7 million higher than the previous year, while profitability increased from RON 113.7 million to RON 131.2 lei in 2014.
Delphi Packard from Timis posted a decreased turnover by RON 270.2 million year on year, while the net profit of the company increased from RON 37.3 million, compared to a loss of RON 2.1 million 2013. The total number of employees also dropped from 8,518 to 7,598
The only company that kept its place in the rankings was TRW Automotive Safety Systems in Timisoara. With a loss of RON 9.4 million, RON 3.3 million less than in 2013, and with a total of 2,931 employees, 497 people more than in 2013, the company posted a turnover of RON 1.2 billion 2014 (RON 1 billion higher year on year).
Hella from Timis, a German manufacturer of automotive lighting and electronics and Renault supplier, increases in terms of turnover and profits and number of employees. With a net profit of RON 81.2 million lei (up by RON 51.4 million against 2013), the turnover of this company increased from RON 816.9 million in 2013 to RON 1.1 billion in 2014 . Total number of employees in 2014 was 2,054, increased by 267 people.
Latest ranked 9th and 10th in top positions are German producer Leoni Wiring Systems from Arad and Japan's Yazaki with operations in Ploiesti industrial park.
At the end of 2014, Leoni Wiring Systems had a turnover of RON 728.1 million and a profit of RON 7.1 million, while Yazaki posted a turnover of RON 803.2 million and a profit of RON 16.2 million.
The study concludes that both turnover and profitability level for this sector will continue their positive trend, seeing as the demand for automotive products in Europe has known an increase.
Natalia Martian