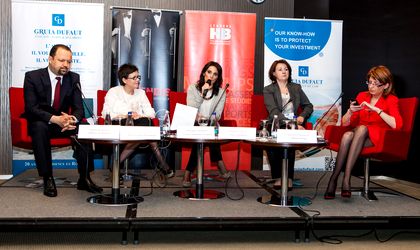 The authorities will soon enact modifications to the legislation protecting Romanian jobseekers in search of positions abroad. This was just one of the issues debated by HR professionals who attended the Focus on Employment & HR event.
By Otilia Haraga
"We want to strengthen restrictions so that Romanians are better protected from certain labor recruitment agencies. We are trying to impose restrictions so that any person looking for a job abroad will no longer have to pay any kind of commission," Camelia Mihalcea, head of the International Relations, EURES and Mediation Directorate, at the National Agency for Employment (ANOFM), announced at the Business Review event Focus on Employment & HR, which took place on April 28.
Law 156/2000 aims to ensure the protection of Romanians who are seeking a job abroad. The law will impose tougher conditions on private recruitment agencies that find workers for posts in other countries.
The types of professionals that fall prey to flawed recruitment include highly skilled specialists, such as doctors, IT workers, and other technological professions, as well as unskilled laborers in fields such as agriculture or construction, said Mihalcea.
According to Adriana Comaneci, founding and managing partner at Reviro, a company that places Romanians who have studied abroad back in roles in their home country, approximately 5,000 Romanians start or finish their studies abroad every year. These could be a valuable resource for companies that are looking for a highly skilled labor force.
"One cannot really stop the flow of talent abroad. The Romanian labor market needs to be competitive. The wage gap between Romania and the rest of Europe will eventually be bridged," said Arun Krishnamurthy, human resources director at Vodafone Romania, during the event.
"The phenomenon happening in Romania today took place in India about 15 years ago, as thousands of young people flocked to foreign universities," he added.
In Romania, unemployment is still an issue, especially in certain poor parts of the country. Romania had 503,000 registered unemployed citizens in March, giving it an average unemployment rate of 5.56 percent, according to recent data from the ANOFM.
Half of the registered unemployed are in the 30-39 and 40-49 cohorts. The majority have not graduated from high school and over 72,000 percent have been out of work for more than 27 months.
People aged 40-49 top the unemployment list, with 143,574 out of a job.
Those aged between 30 and 39 are the second most exposed age group, with 117,796 of them being jobless.
The third biggest unemployed demographic is people over 55, with 71,311 in this age group out of work.
Approximately 146,605 jobless people in Romania have been looking for work for the past three-six months.
Vaslui, with an 11.53 percent unemployment rate, Mehedinti (10.34 percent), Teleorman (10.16 percent), Dolj (9.68 percent), Alba (9.30 percent), Galati (9.05 percent), Buzau (8.54 percent), Ialomita (8.21 percent), Olt (7.94 percent), and Gorj (7.79 percent) have the highest unemployment rates, according to the National Agency for Labor Force Occupancy.
At the opposite end, the counties with the lowest unemployment are Ilfov (1.73 percent), Bucharest (2.05 percent), Cluj (3.32 percent), Maramures (3.85 percent), Bihor (4.03 percent), Constanta (4.28 percent), Satu Mare (4.46 percent), Bistrita (4.68 percent) and Sibiu (4.73 percent).
The lack of a proper job drives many to seek work on the black market. "Undeclared labor has not been eradicated in any European state. In Romania, the number of undeclared workers has stayed broadly constant. No one has yet succeeded in presenting a winning formula for the market. Without the participation of other institutions, there is no way of eradicating undeclared labor. We are also limited by the number of labor inspectors that we have right now," said Ciprian Dragomir, general state inspector at the Labor Territorial Inspectorate (ITM).
"Compared to the European average, black market labor in Romania is a widespread phenomenon, as shown by the EU Eurobarometer. Romania has a high percentage of employees who receive some of their remuneration 'under the table' – 7 percent, compared to the European average of just 3 percent. In our opinion, the real percentage is even higher," Mihaela Nitu, senior lawyer at Gruia Dufaut Law Office, told BR.
"In Romania, undeclared labor mainly involves employees who work for a business owner, and sole traders. Most unofficial employees work at small firms with fewer than 55 employees, according to public data. Romania is also among the countries with a high incidence of employers with more than 100 employees who resort to unofficial labor," she added.
Nitu noted, "The rather substantial social contributions that companies must pay are often the main reason for hiring on the black market, and inexperienced young people who are interested in immediate financial gain, to the detriment of social protection, and unskilled workers are the most widespread victims of this practice."
She called on the authorities to axe the social contributions paid by employers but also to make work relations more flexible.
During the Business Review event Focus on Employment & HR, the Romanian authorities announced new modifications to the human resources legislation. According to Dragomir, one of the laws that will undergo amendments concerns day labor, which will come into force on June 17. The modified law will permit day labor in a greater number of fields.
"We have also started to roll out a project to revise the General Record of Employees (REVISAL). We will organize discussions with the business community and the main employers will be invited to present their take on the matter," said Dragomir.