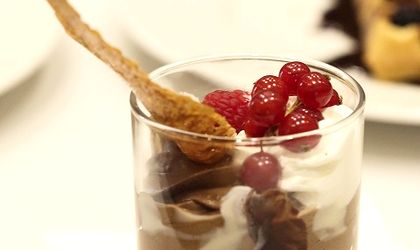 Between April 22 and May 1, at Crowne Plaza will be celebrated the Belgian Week, an event that celebrates the commercials relationship between the two countries, with a focus on cuisine and social networking events, as well as a Belgian Business Day Gala Dinner.
Belgian cuisine is one of the most highly praised in Europe and is renowned for its delicious taste and quality. This reputation is well-deserved, since Belgium is one of those countries where good food is not a hollow phrase but a veritable part of the country's culture. Belgians love high-quality cuisine and enjoy sharing it in good company. From "moules frites" to waffles, you indulge your senses for lunch, dinner and Sunday Brunch with Belgian traditional dishes.
Belgium is known for its cuisine inspired both by the German culture, in the north of Europe and by the Latin culture, from the south and is nowadays well appreciated for its delicious and fine taste. The Belgian cuisine lovers and those eager to discover it, will be able to choose from a rich menu, prepared by Crowne Plaza Bucharest Master Chef, Ashlie Dias. He will cook using traditional Belgian products, such as cheese grey shrimps, ham from Ardennes, chocolate and the well-known beer, used in Belgium to prepare the most popular national dishes. Among the dishes Ashlie Dias will cook, you can find la Carbonade Flamande, beef and vegetables stew with trappist beer served with Belgian fries, marinated mussels in white wine or Gentse Waterzooi, a traditional fresh fish stew with vegetables and cream. Another traditional dish that can be served is the Belgian waffles.
Those who will take part in the event can choose between a la carte menu, buffet dinner or a Sunday brunch, from 12:30 to 16:30, at the Crowne Plaza.
The "Belgian Week" has a strong business part and includes a series of events and activities, designed to create opportunities for promoting products and services in both countries in order to establish new partnerships, such as business seminars, networking activities and Gala Belgian Business Days.
Photos courtesy of Crowne Plaza
Oana Vasiliu