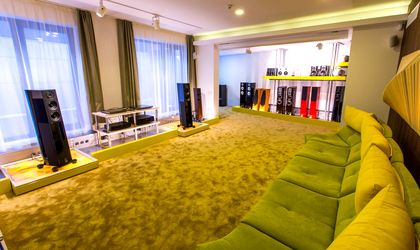 Since 2007, AV Store is one of the leading names in audio-video residential devices. With sales expected to reach over EUR 3 million in 2015, this small business is a testament to the success of niche operations. Employing an online and offline business model, this business offers both the online convenience and a one-of-a-kind showroom, where sound lovers get to feel like home. To find out more about this niche, BR performed a sound check with Bogdan Stefan, managing partner at AV Store. 
Tatiana Lazar
What does a home cinema experience mean?
Home cinema covers a wide range of equipment, from projectors, where prices start from about EUR 500 up to EUR 17,000, to projection screens from Projecta with characteristics like 4k resolution (8 million pixels), tensioned projection surface, special granulation of the surface, not to mention the importance of the sound. Of course, you can make your own home cinema with a TV-set, but when you see a movie on a 3-4 meter screen, there is no comparison. Furthermore, the experiences that a big screen offers are unimaginable – you are actually projected there in the movie or on the field. When it comes to sound, we are talking about two different things: the soundtrack of a movie and the sounds of it – the special effects. For these effects we have surround sound. Also, we promote the Dolby Atmos technology, a 3D audio experience which is used in theaters, but now can be brought home, letting film makers place sound elements in a 3D space. Basically, the sound engineers of the movies can place objects in the room to make the experience more realistic – for example, if in a movie there is an arrow which crosses from left-behind to the middle of the screen, the sound of the arrow's movement will pass near my left ear and this happens courtesy of the speakers placed in different locations of the room.
How is a hobby room made?
The Hobby Room concept is something that we promote and it means a special space in the home where the devices can be installed, from home cinema equipment to karaoke or games. It really helps us to better understand every client's need if we can see the house plans and if we know the construction's composition. These details can make the difference, especially when the client is willing to invest consistently in his/her hobby. Also, if the design of the house has already been made, no worries, the devices we have can be easily integrated into the space, without the necessity of breaking walls or extra investment in construction, if is not the case.
How do clients find you?
Most of our clients first land on our webstore, looking for some device, and then they come to the showroom to actually see the product, test it and of course, to learn how to maximize the device's options. What's interesting is, that after their first contact with us, they keep close and return for better devices or even develop a passion for sound and want to learn more about what we have "in house." Also, we have three main categories: home cinema, music equipment and headsets, which make the buying decision complicated, especially because of the subcategories each has. For example, when we talk about headsets, you should know what you want to use them for, because we have on ear, over ear, in ear, high-end, fashion & streetwear, wireless, sports, hands-free, TV, travel and many other types.
Who are your clients?
Our clients can be divided into two main categories: those passionate about the new technologies, sounds, screens, very well-informed, the audiophiles and those interested in quality and the special effects that a home cinema system can offer as an experience. When it comes to gender, men are interested in the technical qualities of the products, whereas women like design, although we have an important specialized womens' community.
Which are the brands you exclusively bring to Romania?
When we talk about brands, we basically bring to Romania the most important and relevant brands which are promoted and known worldwide: German Sennheiser headsets, Audio-Technica headsets and turntables, German Audio Physic speakers, Mission speakers, Norwegian Hegel integrated amplifiers, Devialet integrated amplifiers and the best wireless speakers in the world, Fiio amplifiers for headsets and portable hi-res music players, and many others.
Company's profile
10% of the total national headset market is sold through AV Store
Best buying products: speakers and headsets
Over 1,000 pairs of speakers sold in 2014
20% of the business comes from the distribution network
Over EUR 3 million sales expected in 2015
EUR 100,000 spent by one client for audio devices
RON 10.3 million turnover in 2014