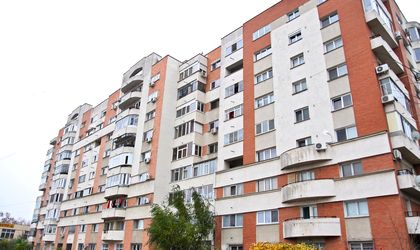 Bucharest is the only large Romanian city where house asking prices continued to drop so far this year, mainly due to an 8.4 percent decrease of new apartments' prices, while the old apartment market reported a slight increase, according to data from real estate platform imobiliare.ro.
The average asking price for Bucharest apartments was EUR 1,034 per sqm at the end of February which was down by 2.3 percent against February 2014 (EUR 1,058 per sqm). Prices dropped by 0.3 percent compared to the previous month.  However, while asking prices for new apartments (mainly properties built after 2000) dropped by 8.4 percent in February 2015 y-o-y (to EUR 1,065/sqm), those for old properties increased by 1.3 percent (to EUR 1,004/sqm). Compared to the beginning of the year asking prices were down by 1.6 percent and up by 0.2 percent, respectively.
In the case of new apartments the highest drop was reported by studio apartments whose average asking price was down by 9.4 percent at the end of February y-o-y (EUR 1,009 per sqm at the end of February against EUR 1,114 per sqm at the end of February 2015).  One bedroom apartments registered an 8.2 percent drop, from EUR 1,135 per sqm to EUR 1,042 per sqm.
Outside Bucharest, asking prices have been on an upward trend.
In Cluj-Napoca, the average asking price is about 11 percent higher than 12 months ago, respectively EUR 958 (compared to EUR 862 per sqm). However, over the last month, owners' expectations fell by 0.2 percent, from EUR 960 per sqm.
Timisoara lands the second position in the ranking of the highest increases registered over the past 12 months, with a difference of 5.7 percent between February 2015 and February 2014 (EUR 851 against EUR 805 per sqm). In February 2015, apartment prices in Timisoara increased by 1.4 percent (from EUR 839 per sqm).
Old apartments' prices rose by 6.8 percent from last year (from EUR 792 to EUR 846 per sqm) and by 1.6 percent last month (from EUR 833 per sqm). New apartments cost less compared to the same period of 2014, respectively EUR 869 per sqm (value 1.6 percent lower than EUR 883 per sqm in February 2014). The second month of this year brought a slight increase (0.3 percent) in this segment, compared to EUR 866 per sqm in January.
In the largest city on the Black Sea, Constanta, housing prices rose by 4.2 percent last year (from EUR 849 to EUR 885 per sqm), while in February, there was a 1 percent increase (from EUR 876 per sqm).
Staff