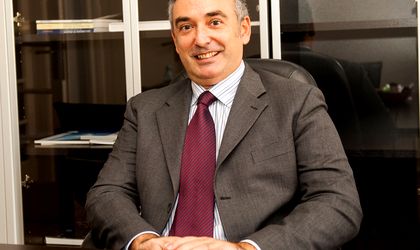 Silviu Savin, partner with Ascenta Management, a Romanian investment advisor and real estate developer, talks to BR about the development of its office project in Brasov, Coresi Business Park, the challenges of  buying distressed assets on the local market and how the company plans to invest between EUR 15 million and EUR 20 million in a private healthcare chain.
Simona Bazavan
What is the current gross leasing area (GLA) of Coresi Business Park and what are your development plans for the project?
Right now, we have around 30,000 sqm (GLA) of office space and the target is to reach 100,000 sqm. In April, we will finish the project's second development phase which will account for a total of 18,000 sqm which will be delivered by segments of about 6,000 sqm – 7,000 sqm through to this date. Given the current development speed, we estimate that the 100,000 sqm will be delivered in about five to six years.
Lately, we have seen leasing activity pick up due to two main factors. The first is the fact that Brasov is becoming an increasingly interesting destination for multinational companies and secondly, because of changes to the application of ISU (e.n. the Inspectorate for Emergency Situations) safety norms in the aftermath of the Colectiv fire. We see companies, particularly multinational players, pay more attention to building safety. In fact, this is no longer an item on a long list of things to check, but any negotiation with potential new tenants now starts with questions about compliance to ISU norms.
Do you think Brasov has the capacity to absorb these 100,000 sqm of office space?
Brasov and the county overall have had an industrial revival over the past years. After a period of industrial decline, production is now several times higher than it was even before 1990. And this drives up demand for office space. This demand is split relatively equal between multinational companies such as shared service centers, business process outsourcing and IT companies that are already present locally and are expanding. They come here mostly because of the work force which they say it is still available and competitive both in terms of qualification and costs. The downside is the lack of infrastructure such as a highway connection to Bucharest and an airport which has led to Brasov sometimes losing potential newcomers in favor of other regional cities such as Cluj-Napoca, despite several competitive advantages in terms of work force.
Another driving factor is that many companies that are already present in Brasov but whose offices are presently in class B or even C buildings, are migrating towards class A projects. There are quite many companies that are looking to upgrade and are relocating from such buildings which overall represent an important share of the existing office stock. I estimate that Brasov now has between 100,000 sqm and 120,000 sqm of office space, out of which only about 60,000 sqm are class A. The rest are class B and in many cases, class C.
We already have 30,000 sqm of office space and we are flexible with regards to expansion as we have the support of both banks and the investor behind the project. The market presently suggests that it can maintain its growth rate. Given that we don't do speculative developments, should this change we will slow down expansion. If we won't reach 100,000 sqm in five or six years, we will perhaps reach them in eight or ten. But the investor behind the project, Philip Jacobs (e.n. of the Jacobs family which set up the coffee business with the same name,) is in this for the long term and there is no time pressure for him to exit.
What are your main tenants and how much has been invested so far in the project?
CGS is has been with us since 2009 and they are our biggest tenant. Other tenants include Raiffessen, IBM and Tata Technologies which will move in our new building. They each lease between 3,000 sqm and 5,000, sqm and have between 500 and over 1,000 employees. We haven't lost any of our tenants and in fact, they have all expanded their initial offices and continue to have expansion plans.
The project is presently fully leased. We are not doing speculative developments so we have never built without pre-lease agreements.
Up to date, we have invested about EUR 15 million, excluding the price of the land. About half of this was private equity and the rest was represented by bank loans from Blom Bank France and Garanti Bank.
How do you estimate the recently announced plans to increase taxes for residential properties used as office spaces will affect the market?
It is hard to estimate the exact impact, but if indeed it will come into force, and if this will apply for all companies that are located in residential spaces, it will eliminate a considerable fiscal advantage they presently enjoy. The local tax can account for between 10 and 20 percent of the rent a tenant pays in an office park so this fiscal change would help balance things.
The same applies for the special constructions tax. Scrapping up this tax will help eliminate another imbalance. For example, we have invested between EUR 2 million and EUR 3 million in Brasov over the past years in landscaping common grounds such as green areas, alleys or parking spaces. This doesn't reflect in any way in our rents, but it generates taxes which weigh hard for an office park such as us. On the other hand, if someone rents an apartment to use as office space there is no such additional cost.
Have you made other real estate investments besides the office project in Brasov?
We have a number of six properties of one to two hectares where we will develop retail projects. Between 5,000 sqm and 10,000 sqm of retail space can be developed on these plots of land that will feature a small box FMCG retailer and a connected shopping gallery. On one of these properties, we already have a Penny store and for another two projects we are in advanced negotiations with retailers. Here too we have seen a higher interest from retailers for expansion, as a result of higher sales over the past couple of years.
Besides this, we are constantly looking at making new investments in real estate properties, be they office, retail or residential developments. We are not a real estate fund. We research such business opportunities, we analyze them and take them to a number of investors we work with and who have very different risk- return profiles. We later do the management of the resulting projects. One of the advantages of operating like this is that we can get involved in very different projects and thus be more flexible.
We have also looked at investing in distressed assets and have been involved in bids for the non-performing loan (NPL) portfolios of several banks but so far we haven't managed to close any a transaction of this kind.
What do you think are the reasons for this?
Over the past three – four years we have made about 15 bids which were either binding offers or very close to becoming binding for distressed assets, mostly from banks. For example, we have made bids for the Swan office project in Bucharest or the NPL portfolios of Bank of Cyprus or BCR. In the latter two cases we partnered up with players such as the EBRD and Sankaty. In many cases, we have had the highest offers but still we didn't close any transaction. In fact only two of these 15 bids ended up with the distressed asset being finally sold.
The reason for this is that banks continue to have unrealistic expectations. In many cases, the gap between the offer made by the buyer and the bank continue to be very high at between 30 and 50 percent. It is hard to estimate when offer and demand will eventually meet. Until then, the fact that such bids never see the assets change hands is not good for the market. Should this happen, we would finally have a benchmark for both buyers and sellers. Overall it is a frustrating situation for investors and this is a competitive market. There aren't that many players willing to invest over EUR 100 million in such assets and none of them have a focus on Eastern Europe. Therefore they prefer to do business elsewhere on other markets such as Spain, Italy or France, where things actually happen.
We continue to be interested in the acquisition of distressed assets but we are more selective because the whole due diligence process is very time consuming and costly.
Are you also looking at investments in other fields?
Yes, we are working on launching a private healthcare network in 2017, more specifically a chain of specialized clinics. The investor behind this is also Philip Jacobs and we are looking at an investment of between EUR 15 million and EUR 20 million, mostly private equity since we don't know what the banks' appetite for such projects is. We will start with four units and the target is to reach 10.  We are now in the process of acquiring the land, equipment and recruiting medical personnel.
Do you think the office market outside the capital will maintain the growth trend it has reported in recent years?  
I think that the volume of new office space that will be delivered outside the capital will remain constant and it can even increase because, just like in Bucharest, there will be a migration towards quality. All regional cities presently have a stock of old office space that does not meet the demands of multinational players. The same has happened elsewhere. For example, in the Czech Republic, Poland or Slovakia  – markets which I would say are about ten years ahead of us in terms of development – the office stock in secondary and tertiary cities is very modern. Moreover, a similar city to Brasov in one of these countries has a stock of about 400,000 sqm – 500,000 sqm GLA.
About Coresi Business Park
Surface: 30,000 sqm
Revenues from rents for 2015: RON 12.3 mln (approx. EUR 2.8 mln)
Investment up to date: EUR 15 mln (land excluded)
Location: The project is located on the grounds of the former Tractorul industrial platform on a 13 ha plot of land which Ascenta Management took over from Flavus Investments in 2012 and which cost EUR 77 million. Part of the land was later sold to Immochan for EUR 21 million.
Silviu Savin bio
He has been a partner with Ascenta Management, since 2010. Between 2007 and 2010, he acted as administrator of Centerra Capital, the company responsible with acquiring and masterplanning the former industrial plantform, Tractorul, in Brasov where the office park was later built.
He has 16 years professional experience in private equity and real estate, out of which eight with the Government of Singapore Investment Corporation (GIC) in London and Singapore.
He holds an MSc in applied physics from Stanford University and an MBA from INSEAD.