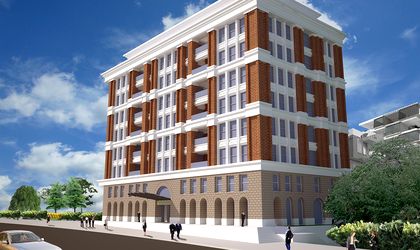 Ethos House, the office project developed by Gktosis Anstasios in Bucharest, will be completed on October 1st, the developer has announced. The 8,000 square meter office building located on Calea Floreasca represents a EUR 7 million investment with Arval, BNP Paribas Cardif and Venchi among the first announced tenants.
Ethos House offers 7,758 square meters of space up for lease, distributed on 9 levels, with the ground floor already occupied by two retailers. Two other levels have already been rented. The last level of the building will be occupied by the developers, so that at the moment the building has 3 of its 8 levels leased, representing 40 percent of its total leasable surface.
"Two famous retailers have already rented the entire space at ground level, representing 768 square meters. One of them is Venchi, a name with tradition in the premium chocolate segment. Arval Romania, international leasing company, will be another tenant, occupying a whole floor. Another floor has already been rented to BNP Paribas Cardif Romania and we are in talks with other interested parties", according to Sinziana Zainea, leasing manager for Ethos House.
Gktosis Anastasios is one of the investors for Polona 68 Business center, a EUR 15 million investment. The Barbu Vacarescu-Floreasca area of Bucharest is one of the city's main business poles some of the most recent office developers in the areas being  Skanska, Raiffeisen Evolution, Portland and Globalworth.