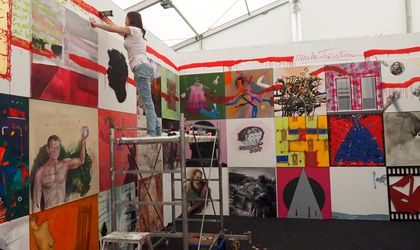 Bucharest's first professional and public art pavilion – Art Safari – will be a comprehensive four-day presentation of Romanian art, comparable to the great pavilions of other European capitals.
During these days, Romanian artist Mirela Traistaru with the help of the Romanian Cultural Institute, has gathered over 73 Romanian and international artists for her project "Add to Address Book". They were asked to create one 100 x 100 cm artwork depicting their individual concerns. These works are connected in the form of a giant puzzle through a red wire in an intervention with specific sequences characteristic of the artistic creation of Mirela Traistaru. "I'm writing the story of friendship because all these paintings were given to me by my friends, well known national and international artists", said Mirela Traistaru for BR. The performance is taking place live at Art Safari Bucharest Art Fair.
The artist Mirela Traistaru also exhibit charcoal paintings and sketches with the Comparative Art Museum of Sangeorz-Bai, which tries to involve visitors in a program of fascinating discoveries, presenting at their pavilion also artist Gyory Csaba and Maxim Dumitras.
Art attack: Bucharest premieres public art pavilion
Over 100 galleries, museums and cultural institutions are due to attend the event. Major names – homegrown and international – will be included, such as: Brâncuşi, Klimt, Grigorescu, Rembrandt, Tonitza, Picasso, Luchian, Renoir, Aman, Chagall, Baba, Degas and Ţuculescu. Museums will exhibit works of art that values more than EUR 10 million. In the galleries area, Romanian art which values almost EUR 1,5 million will be on display. Romanian painter Nicolae Grigorescu will have five paintings with a total value of EUR 1 million, courtesy of Artmark.
The pavilion is opened from 12:00-20:00, Thursday 22 and Saturday 24 May; 12:00-02:00, Friday 23 May; and 12:00-18:00, Sunday 25 May. A one-day ticket costs RON 15. Private tours are available on request at tours@artsafari.ro.
Photo courtesy of Daniel Vrabioiu
Oana Vasiliu