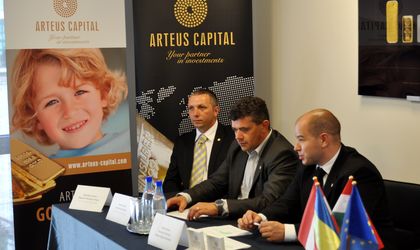 Austrian asset manger Arteus Capital plans to launch a new type of loan that uses gold as collateral by year end, sustaining the recapitalization of companies during a tough period for bank financing.
The loan, made in Euros, represents 65 to 75 percent of the gold holdings and will have a maturity of 3, 6, 9 or 12 months, according to Kubanda Levente, regional manager of the regional Arteus office in Brasov. The gold needs to be stored by Arteus in order to make it eligible for the loan.
He said the same loan had already been launched in neighboring Hungary at an interest rate of 6.5 percent, and was growing in popularity.
Arteus opened its first office in Brasov last year to serve the Transylvania region and came to Bucharest this spring, in order to tap into a larger pool of customers, mainly people working for multinationals. The company targets the Iasi and Constanta cities for further expansion next year.
The company targets a turnover of EUR 12 million by year end, and has 500 customers in Romania, out of 5,000 in its international portfolio. They have combined gold holdings of 150 kilograms with a market value over EUR 6 million, according to Sebok Istvan, executive director of Arteus Capital Romania.
"This year we have registered significant growth in the savings program," said Istvan. Aside from this, the firm offers professional services for clients that want to invest in gold and other precious metals, along with a buyback option for the gold.
Arteus representatives told BR the Romanian gold investment market is in its early stages and that they are trying to raise awareness regarding this option. At present, the company stores only 20 to 30 percent of the acquired gold in its deposits. Most investors want to control the storage of their physical gold, and consider the banks as an alternative.
The company plans to add eight sales managers by year end in the Bucharest office, which will handle a team of four to five consultants each. Right now, the firm relies heavily on the recommendation system.
Simon Attila, country executive manager at Arteus, said the firm's customers are average and high earners who want to plan for their financial future. He added that the firm advises its customers to diversify their investment portfolio, and put around 30 percent into gold, the same proportion into real estate and the same again into foreign currencies.
Gold prospect
One ounce of gold is currently trading in the USD 1,730-1,750 band, but estimates suggest that it could climb to around USD 2,000 by year end, according to Istvan.
"The political decisions in Europe have been a determining factor in the price of gold in the last two weeks, which moved up by 6.9 percent," said Istvan.
He added that banks purchased 80 tons of gold in the first quarter and that Russia, Kazakhstan and Mexico are currently the most active gold buyers.
The unlimited bond program recently approved by the European Central Bank and a new round of quantitative easing in the US could see more gold hoarding, concluded the Arteus executive.
Ovidiu Posirca