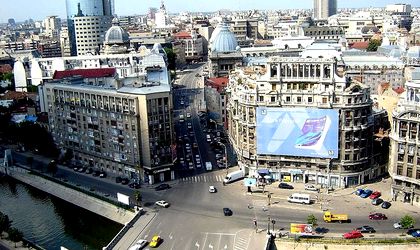 This unusual art tour is offering captures the essence of Romania in downtown Bucharest, affording participants an insight into Bucharest's artists' works and studios, provided by the Art in Bucharest association.
Art studio tours – no. 47: A stop in the world of textile, painting and sculpture in Little Paris 
September 12, from 11.00
Reservations: art@artinbucharest.com / 0726 008 152.
Tour available in Romanian and English, RON 80 / EUR 20
Meeting point: Piata Universitatii, metro exit near the History Museum. The tax from the tour is donated to Bucharest's artists studios map project.
Meet & visit Bucharest's artists:
Artist Rodica LOMNASAN
Rodica works in a variety of mediums but her favorite is etching using aquaforte. She also does dry point etching, Lithography, painting and is a competent Graphic Designer. She graduated from the National University of Arts in Bucharest with a Phd in Visual Arts. Rodica participates in printmaking residencies and workshops in Belgium, Netherland, Romania, and Cyprus.
She participated in International Print Biennials in Europe, Japan, Malaysia, and South America and several group and personal exhibitions.
Artist Dorina HORATAU 
Dorina was selected with one of her works to participate to the 5th Riga International Textile and Fibre Art Triennial  Tradition & Innovation organized by the Latvian National Museum of Art (April 2015).  Dorina will show us in her studio the process through which a piece of paper or textile becomes an artwork.
Artist Lucian Ţăran
The sculptor is back from an artistic residence he had in France for several months, and ready to share stories and new ideas.
Tatiana Lazar