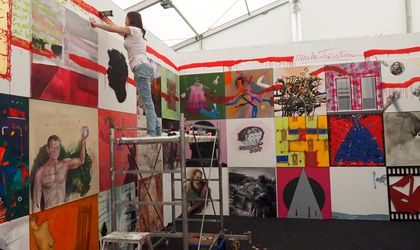 This unusual art tour is offering captures the essence of Romania in downtown Bucharest, affording participants an insight into Bucharest's artists' works and studios, provided by the Art in Bucharest association.
Read also: Art in the right place: studio tours reveal a hidden city
Art studio tours – no. 41 Female artists in their studios in spring
March 14, from 11.00
Reservations: art@artinbucharest.com / 0726 008 152.
Tour available in Romanian and English, RON 80 / EUR 20
Meeting point: Charles de Gaulle Square, metro Exit next to Romanian Television. The tax from the tour is donated to Bucharest's artists studios map project.
Meet & visit:
Born in Bistrita and a graduate of the "Romulus Ladea" Plastic Arts High School and of "Ioan Andeescu" Plastic Arts Academy from Cluj, artist Mirela Traistaru (in picture) is already familiar to Romanian audience not only through her numerous personal and group exhibitions, but also through a rich theatre, cinema and television activity (costumes and settings), through her participation in international festivals, fashion shows, seminars and creation workshops. She has works in private collections from Switzerland, Holland, France, Germany, Italy, Denmark, Austria, Turkey, Serbia, Romania, the US, India, Japan, Egypt, Bulgaria, South Korea.
Florica Prevenda (painter) writes about herself that "… For the past ten years every tread of my destiny turned my path into an initiating road to new artistic identities, thus leaving a mark on my continuous search for new surroundings, new shapes that have built into creative stages. Each stage obsessively materialised beyond something that my mind and my soul have projected as a prolongation of my existence: "SHADOWS OF THE PRESENT", "NET PEOPLE", "FACES WITHOUT A FACE", "TIME REGAINED, "SERENITY" and "FACEBOOK OBSESSION"."
Tatiana Lazar