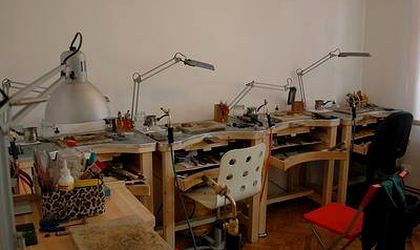 This unusual art tour is offering captures the essence of Romania in downtown Bucharest, affording participants an insight into Bucharest's artists' works and studios, provided by the Art in Bucharest association.
Read also: Art in the right place: studio tours reveal a hidden city
Art studio tours – no. 50: A stop in the world of jewelry inside artists' studios
February 6, from 11.00
Reservations: art@artinbucharest.com / 0726 008 152.
Tour available in Romanian and English, RON 80 / EUR 20
Meeting point: Eroilor Metro Exit (next to the Romanian Opera House). The tax from the tour is donated to Bucharest's artists studios map project.
Meet & visit Bucharest's artists:
Assamblage Contemporary Jewelry School (in picture) was founded in October 2010 at the initiative of designer David Sandu and soon became a foundation and a strong reference point in the development of design jewelry in Romania. Staring with 2014, Assamblage is partner of the prestigious Alchimia – Contemporary Jewellery School in Firenze, already developing a series of common projects. In five years of activity, the school has held approximately 100 training sessions and has over 350 alumni.
Wagner fine arts and stories
A story that has been showed on porcelain for ten years now, searching for beauty in everything that surrounds us in life and nature. Based on the concepts and plans designed by Ana Wagner together with the artists – collaborators of the studio, Wagner Arte is nowadays creating a diversified range of unique luxury products as well as serial products: sophisticated and elegant jewels for ladies and men, dining sets, tea or coffee porcelain sets, fittings, various hand painted furniture pieces accessorized with porcelain elements. In time, Wagner fine porcelain gained new value by association with other materials.
Alis Lalu
In January 2011, the artist has followed the classes of Assamblage Contemporary Jewelry School, under the guidance of David Sandu, jewelry designer and mentor. A couple of months later she gave up her corporate career in order to pursue an old passion, to which she is now totally dedicated.
Oana Vasiliu