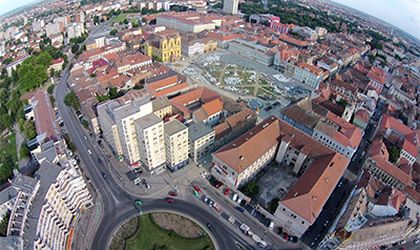 Art Encounters Foundation announced the opening to the public of Art Encounters, an event seeking to integrate Romanian contemporary art into international context.
The event, taking place between October 3 and 31, aims at building a dialogue between artists who were active during the communist area at home in isolation (Sigma, Geta Bratescu, Ion Grigorescu) or abroad in exile (Paul Neagu, Andre Cadere, Mihai Olos) and reaching to the 1990s transition period (Dan Perjovschi, Sub:real) and the 2000s democracy (Ioana Nemes, Ciprian Muresan, Mircea Cantor).
Works by nearly 100 artists are exhibited in different locations including the Museum of Art, the Museum of the Revolution, a former Synagogue, a warehouse, an 18th-century army barrack and a former factory in the neighbouring city Arad. All venues transform the city of Timisoara into a large-scale contemporary art museum.
Highlights include:
A live broadcast by DJ Angel and orchestrated by Saadane Afif;
Public performance Ode of the  Matter by Matei Bejenaru, a music piece for choir ­– assembled by a dozen of inmates from the local prison, drummers, violin, and soprano composed by Gabriel Malancioiu exclusively for Art Encounters;
First time exhibited in Romania Darwin's Room by Adrian Ghenie, an installation, which gives the impression of walking into the reality of an old master's painting, a three-dimensional life size realisation of a rather tiny painting from 1632 The Philosopher in Meditation, which has been attributed to Rembrandt;
The installation by Ana Lupas in the small window shop exhibition space of the Museum of Art. Visible only from the street, the small stage questions the way in which an ephemeral installation like the artist's Humid Installation from 1970 might survive in memory and history;
Drawings by Geta Bratescu, titled K from 1976–1978, which might bare a reference to Franz Kafka's novel The Castle and the oppressive communist regime, never shown to the public before;
A set of drawings by Ion Grigorescu from 1972 are displayed together with a short animation film based on these early works.
A number of artworks are addressing existentially-orientated speculations between knowledge, hope and faith. Visions of Ezekiel by Marian Zidaru and recent drawings by Ion Grigorescu illustrating biblical stories, are a good example for indeed unusual theological dimensions in contemporary art. A reference to loss and transience is marked by the presentation of small sculptural studies by Mihai Olos, who died in February 2015.
Other participating artists are: Marieta Chirulescu, Daniel Djamo, Alwin Lay, Alex Mirutziu, Tara von Neudorf, Alexandru Nicolescu, Iulia Toma to name a few.
Talks are highlighting institutional practise of researching, collecting, preserving and mediating art from Eastern Europe. Participants are: Christian Rattemeyer (MoMA, New York), Karolina Ziebinska – Lewandowska (Centre Pompidou, Paris), Frances Morris and Juliet Bingham (Tate Modern, London), Snjezana Pintaric (MSU, Zagreb) and Marcella Beccaria (Castello di Rivoli, Torino).
About the Curators
Nathalie Hoyos and Rainald Schumacher, Office for Art – Berlin, developed 2014 for the Manifesta 10 in St. Petersburg "Unlooped Kino". A video anthology, which compiled for the first time works of the last decades from Eastern Europe, Europe and the US in a contextual framework. 2014 they curated "Fragile Sense of Hope", an insight into the Art Collection Telekom, a corporate collection with a clear focus on art from Eastern Europe.
About Art Encounters Foundation
The Art Encounters Foundation was set up in 2015, by Ovidiu Sandor, art collector. The projects of the Foundation are ensuring support for the development of the contemporary art scene in Romania.