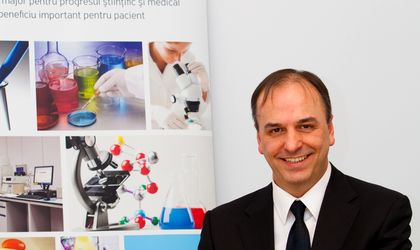 The Romanian Association of International Pharmaceuticals Producers (ARPIM) and the Healthcare Ministry agreed on a timeframe for solving some of the most pressing issues for the producers of innovative medicines, such as the reduction of arrears and the update of the subsidized medicines list.
The Healthcare Ministry will propose the Ponta government to close next month a memorandum, which outlines the medium and long term priorities regarding the innovative pharma sector.
Makis Papataxiarchis (in picture), ARPIM president, said the protocol provides a stable financial and economical framework for the healthcare system.
"ARPIM considers this partnership to be a significant step towards a business environment that is both predictable and economically sustainable, which guarantees Romanian patients access to the best existing treatments to improve their lives."
ARPIM representatives will meet with healthcare officials on a quarterly basis to discuss any initiatives that influence the industry, according to Dan Zaharescu, executive director of ARPIM.
The ministry has agreed on a payments schedule calendar, which should see producers recover more than EUR 1 billion in debt through to 2014. Two thirds of the issued invoices will be paid this year.
The country has enforced this month an EU directive that will see payment terms gradually drop from 180 to 60 days.
The list of subsidized medicines will be updated starting July, accommodating innovative pharmaceuticals that have been used in the EU in the past six years. The list of free and subsidized medicines is set to be updated every 180 days with the new molecules.
ARPIM aims to make the claw-back tax "economically sustainable" starting next year, and is currently involved in negotiations with the Healthcare Ministry. Producers have paid more than EUR 1 billion for the tax, which has been changed four times since its inception in 2009.
Although the tax aims to curb the excessive consumption of medicines, pharmaceuticals producers argued they were forced to cover the healthcare budget gaps through this tax.
Ovidiu Posirca